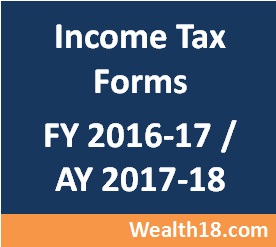 The Income Tax Department has released the  ITR (Income Tax Return) Forms for Financial Year 2016-2017 (i.e. Assessment Year 2017-2018).
These ITR forms will be applicable for income tax returns for income earned from 1st April 2016 to 31st March 2017 i.e. FY 2016-17 (AY 2017-18).  The due date of submission of these ITR Forms will be 31st July 2017.
The Government has made changes to the ITR forms and tried to make it simple. The number of ITR Forms have been reduced from the existing nine to seven forms. 
Some changes to IT Forms
ITR 1 is now just ONE Page,

Mandatory to quote Aadhaar




 number,  mandatory to disclose bank deposits of more than Rs 2 lakh post demonetisation.

ITR 2 and ITR 3 have a Schedule AL requiring assessees to declare their assets and liabilities at the end of the fiscal.

The existing ITR Forms ITR-2, ITR-2A and ITR-3 have been rationalised and a single ITR-2 has been notified in place of these three forms,

ITR-4 and ITR-4S (Sugam) have been renumbered as ITR-3 and ITR-4 (Sugam) respectively
.
| | | |
| --- | --- | --- |
| ITR No | Eligibility | Forms |
| ITR 1 | For Individuals having Income from Salaries, one house property, other sources (Interest etc.) and having total income upto Rs.50 lakh |  ITR1_form |
| ITR 2 | For Individuals and HUFs not carrying out business or profession under any proprietorship | ITR2 |
| ITR 3 | For individuals and HUFs having income from a proprietary business or profession) (Please see rule 12 of the Income-tax Rules, 1962 | ITR3 |
| ITR 4 – SUGAM | For Presumptive Income from Business & Profession | ITR4_english |
| ITR 5 | For persons other than,- (i) individual, (ii) HUF, (iii) company and (iv) person filing Form ITR-7 | ITR5_english |
| ITR 6 | For Companies other than companies claiming exemption under section 11] | ITR6_english |
| ITR 7 | For persons including companies required to furnish return under sections 139(4A) or 139(4B) or 139(4C) or 139(4D) or 139(4E) or 139(4F) | ITR7_english |
| ITR V | | ITR-V |
Feel free to ask queries to find out which return is relevant to you.