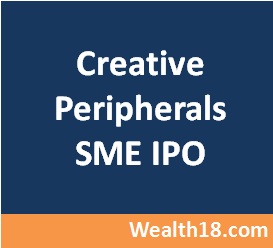 Day
Subscription 

(no. of times)

Day 1
 0.10
Day 2
 0.30
Day 3
 0.85
Day 4
 1.62
Creative Peripherals & Distributions Limited is Market entry and PAN-India distribution specialist with more than 175 employees and 5000 channel partners.
Founded in 1992 by three people, Creative Peripherals Distributions Ltd., today employee more than 175+ people and is a market entry and PAN-India distribution specialist. In all these years, Creative Peripherals has partnered with a number of renowned Brands specializing in IT, Lifestyle, Imaging, and Telecom products.
Issue Details of Creative Peripherals SME IPO
Issue Open :  29th March to 3rd April 2017

Issue Price / Floor Price : Rs 71-75 per share

Issue Size: Rs 12.78 – 13.5 crores (1,800,000 Equity Shares)

Application per share :  Rs 75

Minimum No of shares bid:  1600 shares / Rs 120,000

Maximum Retail investment – 1600 shares

Book Running Lead Managers : Pantomath Capital Advisors Pvt Ltd

Registrar –Bigshare Services Pvt

Listing: NSE SME
Ongoing SME IPO – Read reviews
About the Company
Creative Peripherals & Distribution Ltd (CPDL) is is engaged in providing distribution services of both volume business and value business products. It has partnered with a number of renowned brands for distribution in the country specialising in IT, Lifestyle, Imaging and telecom products. CPDL is a broad based distribution model which is based on multiple products and multiple brand strategy. The focus is to capture a considerable market share in each of the product categories that will help in its offerings to channel partners and also spread its market risks arising out of fluctuations in the market share of various brands besides helping it to achieve economies of scale.
Some clients are: Rapoo Technologies Limited, Lino Manfrotto + Co S.p.a, Transcend Information Inc, ViewSonic International Corporation, Olympus Corporation, Belkin Inc, Zioncom (Hong Kong) Technology Limited, Apple India Private Limited, Sennheiser Electronics India Private Limited, Gopro Cooperatief U.A, TPV Technology India Private Limited, Printronix, SIEPL India Electronics Private Limited, Vintron Infronatics Limited and Samsung India Electronics Private Limited.
The company operates in the indirect sales model and it plays the role of supply chain consolidator between several IT manufacturers and many IT channel partners. It operates with a dealer network of around 6,000 dealers. It acts on a principal to principal basis, purchasing in bulk from the vendors and further down selling them to resellers/sub-distributors/ system integrators and retailers. It purchases from vendors and sells only to channel partners who are typically corporate resellers, retailers and systems integrators.
List of competitors  Redington (India) Limited  Compuage Infocom Limited
Financials
| | | | | | |
| --- | --- | --- | --- | --- | --- |
| | FY 13 (in crores) | FY 14 (in crores) | FY 15 (in crores) | FY 16 (in crores) | FY 17 (6months)(in crores) |
| Turnover | 126.61 | 140.15 | 184.62 | 198.79 | 91.02 |
| Profit | 0.90 | 1.59 | 0.76 | 0.67 | 0.46 |
| | | | | | |
If we annualize latest earnings and attribute it to fully diluted equity post issue then asking price is at a P/E of around 46 plus and P/BV of 5 plus. Thus it is aggressively priced against peers trading at around 23 P/E as per prospectus details.
Summary – Although the turnover is increasing, the profits are declining. The IPO price is also aggresive.