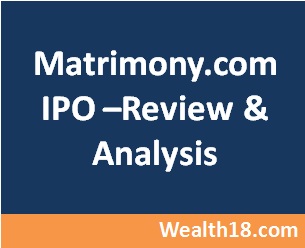 Day 2 – subscription status – Overall subscription: 1.36 times,  Retail – 4.97 times, NII – 0.02 times, QIB – 0.83 times
Matrimony.com, leading portal for online matchmaking services in India is coming with its IPO.
Issue Details of Matrimony.com Limited IPO:   
IPO Open:  11th Sep – 13th Sep 2017

Issue Price band: Rs 983 – Rs 985

Issue Size:  Rs 500 crore

Market lot:   15 shares

Minimum Investment:  14775 (Rs 985 per share)  

Book Running Lead Managers:   Axis, ICICI

Registrar: Karvy

Listing: BSE/NSE
IPO Issue Allocation:
Qualified institutional buyers (QIBs) – 75% of the offer.

Non-institutional bidders –  15% of the offer.

Retail individual bidders  – 10% of the offer.
Background:
Matrimony.com Limited, currently comprises two segments – (i) matchmaking services and (ii) marriage services and related sale of products. It is the leading provider of online matchmaking services in India in terms of the average number of website pages viewed by unique visitors in March 2017 (Matrimony.com data does not include data from all sites under Matrimony.com). Its brand, BharatMatrimony.com, has been ranked as India's most trusted online matrimony brand by The Brand Trust Report India Study 2014.
As of March 31, 2017, the company had a large database of profiles comprising 3.03 million active profiles (profiles that have been published or logged in at least once during the prior 180-day period). In fiscal 2016 and fiscal 2017, the company had 678,000 and 702,000 paid subscriptions, respectively. To focus on and grow its matrimony matchmaking business to cater to the Indian diaspora for which subscription revenues were received in foreign currency (the NRI Business), the company has granted a non-exclusive, non-sub-licensable and non-assignable business license, of certain brand names and domain names owned by the company to its wholly-owned subsidiary, Consim USA, to operate the NRI Business in all territories outside India with effect from December 15, 2015 until December 14, 2019.
The company differentiates itself from other players in India by following a micro-market strategy whereby it offers a range of targeted and customized products and services that are tailored to meet the requirements of customers based on their linguistic, religious, caste and community preferences as well as personalized matchmaking services through EliteMatrimony and our Assisted Service package.
To increase its footprint on the mobile platform, the company has developed a range of mobile apps across mobile platforms including iOS, Android and Windows and intend to continue to expand its mobile offerings. Our BharatMatrimony mobile app has been recognized as the best app in the social category at the Global Mobile App Summit and Awards held in July 2016. In addition, it has recently introduced mobile apps for its BharatMatrimony regional sites and certain community sites which have led to an increase in profile registrations.
The marriage services industry in India is estimated to be worth approximately Rs. 3,681 billion in fiscal 2016, with catering, decoration, venue, gifts and photography accounting for approximately 61.00% of marriage services spends. In this regard, the company is expanding into the growing marriage services market to complement and leverage off its online matchmaking services. For example, it has launched marriage services such as:
MatrimonyDirectory.com, a listing website for marriage-related directory services including listings for wedding venues, wedding planners, wedding cards and caterers;

MatrimonyPhotography.com in Tamil Nadu, Kerala, Andhra Pradesh and Telangana to provide wedding photography and videography services;

MatrimonyBazaar.com in Chennai, Coimbatore, Madurai and Trichy to help customers in availing wedding-related services such as wedding apparel, venue, stage decorations, photography, make-up, catering and honeymoon packages from various vendors.

MatrimonyMandaps.com, a wedding venue discovery platform, to help customers find the right venue for their wedding in Chennai, Coimbatore, Madurai or Trichy.
Top Shareholdings:
The list of the top shareholders of the company and the number of equity shares held by them is as below:
Murugavel Janakiraman : 55.57%

CMDB II : 23.75%

Mayfield XII, Mauritius : 11.92%

Bessemer India Capital Holdings II Limited : 6.87%

Indrani Janakiraman: 0.39%

Mohamed Farook : 0.25%

George Zacharias : 0.21%

B. Chandrasekar : 0.21%

Jayaram K Iyer : 0.08%

Sriram Subramanya : 0.08%

Srinivasan : 0.08%
Objective of the issue:  
The company proposes to utilise the Net Proceeds from the Fresh Issue towards the following objects:
Advertising and business promotion activities;

Purchase of land for construction of office premises in Chennai;

Repayment of our overdraft facilities; and

General corporate purposes.
 Anchor Investors:  Will be available one day before the IPO opens.
 Financials:

Valuation as compared to its peers:
| | | | |
| --- | --- | --- | --- |
| Company name | Revenue from operations (in crores) | EPS (Basic) | PE (offer document) |
| Matrimony.com Limited | 292.93 | 23.13 | – |
| Peer Group* |   |   |   |
| Just Dial | 690.83 | 20.13 | 26.21 |
| Info Edge | 938.2 | -20.92 | n/a |
*Matrimony.com is a provider of online matrimonial services, including online matchmaking services, marriage services and related sale of other products and services. None of the listed companies in India are focused on these segments. There are, however, internet based services in India, which are listed in the peer group companies as above.
Brokerage Recommendations: 
| | |
| --- | --- |
| Ventura | Subscribe |
| Nirmal Bang | Subscribe |
| GEPL | Subscribe |
| | |
 At a upper price band Rs 985, the company is trading at FY17 P/E multiple of 46.2x which is considerably high given comparable peers such as Just Dial are trading at 30.2x FY17 multiple. However, Matrimony.com has clocked a revenue CAGR of 11.6 percent, EBITDA of 38 percent and profit of 43 percent between FY13 and FY17. The company earns more than 95 percent of revenue from its matchmaking services
Should you invest:   As the valuation looks quite high, investors may consider to avoid this IPO or if want to invest, then should have long term view.