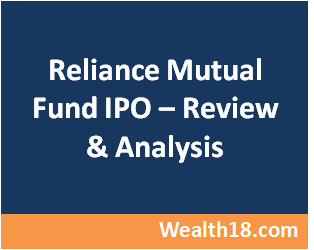 Current Status
Reliance Nippon Life Asset Management IPO is over-subscribed 81.37 times –  Institutional investors – 118 times, HNI — 210 times, and Retail – 5.35 times
Reliance Asset management is third largest mutual fund company in India.
Issue Details of Reliance Mutual Fund IPO:   
IPO Open:  25th Oct – 27th Oct 2017

Issue Price band: Rs 247 – Rs 252

Issue Size:  Rs 1540 crore

Market lot:   59 shares

Minimum Investment:  14868 (Rs 252 per share)

Max Investment for Retail Investor – 767 shares

Book Running Lead Managers:   Axis Capital

Registrar: Karvy

Listing: BSE/NSE
IPO Issue Allocation:
Qualified institutional buyers (QIBs) – 75% of the offer.

Non-institutional bidders –  15% of the offer.

Retail individual bidders  – 10% of the offer.
Background:
Reliance Nippon Life Asset Management Limited (formerly Reliance Capital Asset Management Limited)(RNAM) is the asset manager of Reliance Mutual Fund (RMF).
Reliance Capital Limited is one of India leading and fastest growing, RBI registered Non-Banking Finance Company (NBFC). and has its business interests in Asset Management, Life Insurance, General Insurance, Private Equity, Proprietary Investments, Stock Broking, & other activities in the Financial Services Sector.

Nippon Life Insurance Company (NLI) is a Japan leading private life insurer and offers a wide range of financial products, including individual and group life and annuity policies through various distribution channels, mainly using face-to-face sales channels for its traditional insurance products.
Reliance Asset management is third largest mutual fund company in India after ICICI Pru & HDFC MF.
Top Shareholdings:
The list of the top shareholders of the company and the number of equity shares held by them is as below:
Objective of the issue:  
Out of the totla issue, 40% is fresh issue and 60% is OFS portion.,
– To achieve the benefits of listing the equity shares of the company on the stock exchanges
– Carry out the sale of 8,62,47,187 equity shares by the selling shareholders. The company will not receive any proceeds from the offer for sale.
Anchor Investors:  
 Financials:
 Valuation as compared to its peers:
At the upper price band (Rs 252) , the total market cap will be Rs 15422 crores which will mean the PE ratio of 37x (based on FY2017) and 34x (basedo n FY2018E). 
Brokerage Recommendations: 
Should you invest:   The company's profitability is average as the equity fund business market share is low. Also, ADAG group shares has not performed well in the past.  So I will personally avoid this issue.
Despite above, this IPO is expected to generate some interest as this is first IPO for an AMC.