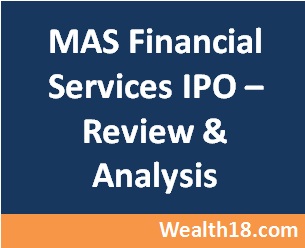 MAS Financial Services,  Gujarat based NBFC is coming with its IPO soon.
Issue Details of MAS Financial Services Limited IPO:   
IPO Open:  To be announced

Issue Price band:

Issue Size: 

Market lot:  

Minimum Investment:  

Book Running Lead Managers:  

Registrar:

Listing:
IPO Issue Allocation:
Qualified institutional buyers (QIBs) – 50% of the offer.

Non-institutional bidders –  15% of the offer.

Retail individual bidders  – 35% of the offer.
Background:
MAS Financial Services Limited, is a Gujarat-headquartered Non-banking Financial Company (NBFC) with more than two decades of business operations. Its business and financing products are primarily focused on middle and low income customer segments, and include five principal categories: (i) micro-enterprise loans; (ii) SME loans; (iii) two-wheeler loans; (iv) Commercial Vehicle loans (which include new and used commercial vehicle loans, used car loans and tractor loans); and (v) housing loans. The company's shareholders include development finance institutions including FMO and DEG and private equity investors including Sarva Capital.
As of September 30, 2016 the company had more than 530,000 active loan accounts, across more than 3,200 Customer Locations in six States and the NCT of Delhi, served through its 119 branches.
In addition to its sales team, the company has entered into commercial arrangements with a large number of sourcing intermediaries, including commission based DSAs and revenue sharing arrangements with various dealers and distributors where part of loan default is guaranteed by such sourcing partners. As of September 30, 2016, it had 344 such sourcing intermediaries for its two-wheeler loan segment, 350 for its Commercial Vehicle loan segment, 32 for its housing loan segment, who typically are affordable housing project developers and property agents. A significant part of its business origination in various segments is represented by loans extended to MFIs, HFCs and other NBFCs that provide financing products including micro-enterprise loans, SME loans, Commercial Vehicle loans, two-wheeler loans and housing loans, enabling the company to have a geographical reach extending beyond its direct customer locations. As of September 30, 2016, Rs. 14,790.25 million, which represented 50.52% of its Asset Under Management (AUM) related to loans extended to other financial institutions.
The company's AUM increased at a CAGR of 39.46% from Rs. 7,136.64 million as of March 31, 2012 to Rs. 26,998.50 million as of March 31, 2016. AUM in micro-enterprise, two-wheeler, Commercial Vehicle and housing loan segments increased at a CAGR of 39.78%, 10.61%, 22.24%, and 56.00% from March 31, 2012 to March 31, 2016, respectively, and AUM in SME loan segment increased at a CAGR of 161.64% from March 31, 2013 to March 31, 2016.
Top Shareholdings:
The list of the top shareholders of the company and the number of equity shares held by them is as below:
Shweta Kamlesh Gandhi : 40.85%

Mukesh Chimanlal Gandhi : 40.28%

Kamlesh Chimanlal Gandhi : 15.61%

Prarthna Marketing Private Limited : 3.26%

Darshana Saumil Pandya : Negligible

Bala Bhaskaran : Negligible

Saumil Pandya : Negligible

DEG : Negligible
Objective of the issue:  
The company proposes to utilise the Net Proceeds from the Fresh Issue towards augmenting its capital base to meet future capital requirements.
In addition, the company expects to receive the benefits of listing of its Equity Shares on the Stock Exchanges, including enhancing its brand name and creation of a public market for its Equity Shares in India.
Anchor Investors:  Will be available one day before the IPO opens.
 Financials:

Valuation as compared to its peers:
| | | | | |
| --- | --- | --- | --- | --- |
| Company name | Consolidated / Standalone | Revenue (in crores) | EPS (2016) | PE (offer document) |
| MAS Financial Services Limited | Consolidated |   | 8.12 | – |
| Peer Group |   |   |   |   |
| Shriram City Union Finance Limited | Consolidated |   | 83.64 | 22.8 |
| Capital First Limited | Standalone |   | 16.36 | 40.83 |
| Mahindra & Mahindra Financial Services Limited | Consolidated |   | 13.58 | 21.44 |
| Bajaj Finance Limited | Consolidated |   | 47.77 | 23.18 |
 Brokerage Recommendations: It will be updated once the IPO is announced.
Should you invest:   The analysis will be completed once the price band is declared.
Disclaimer:  The articles or analysis on this website should not be constituted as Investment advice. Please consult your financial advisor before making any investments.