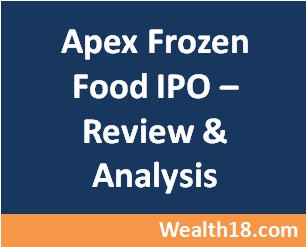 Apex Frozen Foods, integrated producer and exporter of shelf stable quality aquaculture products is coming with its IPO soon.
Issue Details of Apex Frozen Foods Limited IPO:   
IPO Open :  To be announced soon

Issue Price band:

Issue Size: 

Market lot:  

Minimum Investment:  

Book Running Lead Managers:  

Registrar:

Listing:
IPO Issue Allocation:
Qualified institutional buyers (QIBs) – 50% of the offer.

Non-institutional bidders –  15% of the offer.

Retail individual bidders  – 35% of the offer.
Background:
Apex Frozen Foods Limited, is one of the integrated producer and exporter of shelf stable quality aquaculture products. It supplies ready-to-cook products to a diversified customer base consisting of food companies, retail chains, restaurants, club stores and distributors spread across the developed markets of USA, UK and various European countries. Its output majorly comprises of variants of processed Vannamei shrimp (White shrimp) and are sold under the brands owned by itscustomers and also through its own brands namely Bay fresh, Bay Harvest and BayPremium. Some of its major customers are Chicken of the Sea Frozen Foods (USA), Ocean World Ventures LLC (USA) and Pacific Sea Food Group (USA).
The company leased a shrimp processing facility and commenced operations in the year 1995, thereafter setting up its own shrimp processing facility in the year 2004.
The company's processing facility is located at Kakinada, Andhra Pradesh with a capacity to process approximately over 9,240 MTPA of finished products and an additional pre-processing and processing arrangement at a facility owned by Royale Marine Impex Private Limited located at Bapatla, Andhra Pradesh, for a capacity to process around 3,000 MTPA of finished products. Its operational facilities are strategically located along the costal belt of Andhra Pradesh. All its operational facilities are located in proximity to one another, thereby enabling smooth transition of products to each stage of the product life cycle. The processing facility in Kakinada is located within a proximity of 10 to 200 kilometers from its various farms which in turn catalyses its sourcing model of raw materials from the farms. The facility is approximately 20Kms from Kakinada port and approximately 150Kms from Vishakapatnam port, thereby providing a logistical advantage for the transport of its finished product. The processing facilities are supplemented by cold storage facilities. Along with this, the company has its own fleet of vehicles with freezing capabilities.
The company sources approximately 15%-20% of its raw material requirements through its own farming efforts. The company has numerous ponds situated in a total extent of 1,032 acres with 105.78 acres of owned land and 926.22 acres of leased land.
The company's total revenues have grown at a CAGR of 33.53%, and profit after tax at a CAGR of 26.99% from Fiscal 2013 to Fiscal 2016.
Top Shareholdings:
The list of the top shareholders of the company and the number of equity shares held by them is as below:
Karuturi Satyanarayana Murthy : 40.00%

Karuturi Subrahmanya Chowdary : 40.00%

Karuturi Padmavathi : 19.60%
Objective of the issue:  
The company proposes to utilise the Net Proceeds from the Fresh Issue towards the following objects:
Setting up a new shrimp processing unit with a proposed capacity of 20,000 MTPA at East Godavari District, Andhra Pradesh; and

General corporate purposes.
In addition, the company expects to receive the benefits of listing of its Equity Shares on the Stock Exchanges, including enhancing its brand name and creation of a public market for its Equity Shares in India. 
Anchor Investors:  Will be available one day before the IPO opens. 
Financials: 

Valuation as compared to its peers: 

Brokerage Recommendations:
Should you invest:  Once the IPO price is announced, the analysis will be completed.
[xyz-ihs snippet="ad1″]
Disclaimer:  The articles or analysis on this website should not be constituted as Investment advice. Please consult your financial advisor before making any investment