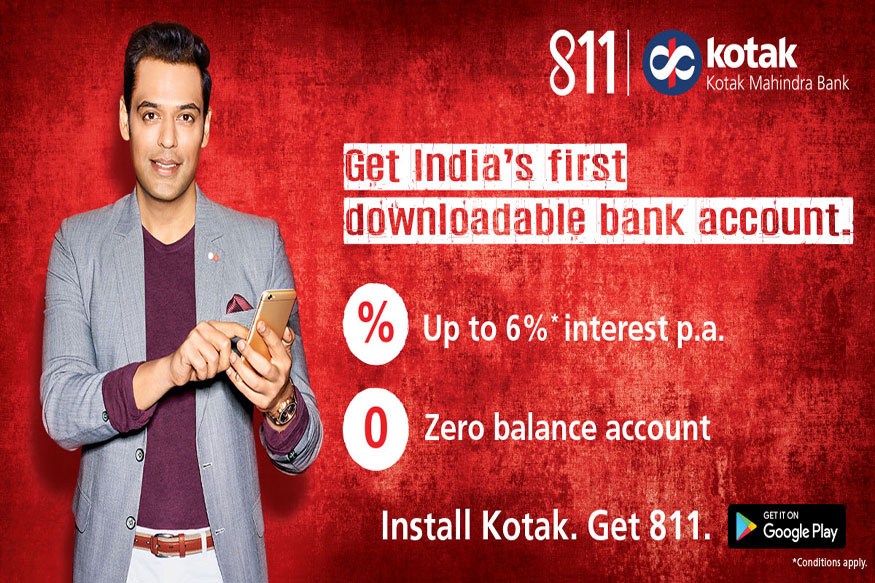 Kotak 811 is a digital or online bank offered by Kotak Mahindra Bank. You can open a 811 account by downloading the Kotak Mobile Banking App and registering using your Aadhaar number, PAN and other basic details. You can set up a mobile banking PIN and start using your account immediately.
Features of Kotak 811 Bank
Zero minimum balance requirement

Savings Interest rate upto 6% p.a

Free online money transfers (IMPS, NEFT and RTGS) 

Kotak 811 debit card : free virtual VISA debit card. Also, you can get the physical card for 299 p.a. charge.

Login to your Kotak 811 account through app
Interest
 DigiBank by DBS offer similar account and gives interest upto 7% p.a. See details of DigiBank by DBS.
How to open Kotak 811 account – Kotak 811 account opening 
Download the Kotak Mobile Banking App

You need to keep your Aadhaar & PAN handy while opening the account. Once complete, your account number & CRN will be generated instantly and you can start using your Account
Restrictions
The maximum amount you can keep in this account at any given point of time is Rs. 1 Lakh.

You can credit a maximum of Rs. 2 Lakhs in this account and post which you will need to convert to Full KYC account.

The validity of this account will be 1 year, within which you will need to convert this account to a Full KYC Account.
How to convert to Full KYC
Full KYC requires in-person verification and your account will be converted to Full KYC within minutes. 
You can either book an appointment through Mobile Banking App or Call our Customer Care on 1860 266 2666* and schedule your appointment or you can visit nearest Kotak Mahindra Branch to convert your account..

Kotak 811 charges:  See the details of Kotak 811 fees and charges here
Kotak 811 customer care:  You can reach Kotak 811  customer care centre on 1860 266 0811 (Local charges applicable). 
Kotak 811 ifsc code: You can see the account details including IFSC code in your Kotak 811 app
811 Edge Account
811 Edge is a savings account which brings you the best of 811 and our regular accounts. This account requires a minimum balance of Rs.10,000. This account comes with Platinum Chip Debit Card, high Free transaction limits, Free transactions on all Kotak ATMs and many more perks. You can either choose this account while going for Full KYC, if you have already opened 811 account or you can directly apply for the same on the Kotak website.
Summary
Kotak 811 is online only bank account that can be opened using Aadhar and PAN details online.  As this is limited KYC account, the total credit transactions are limited to Rs 2 lakh annually.  However, you can convert this account to full KYC account by visiting any branch to get the in-person biometric verification done. Once the account is full KYC, there are no restrictions and it will be like normal savings account.