90 views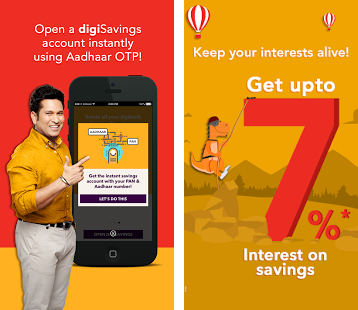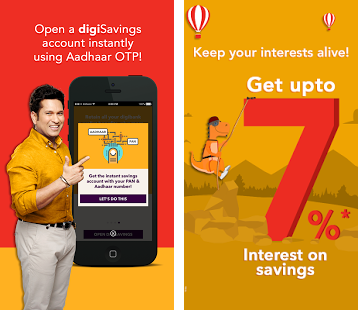 Digibank is India's first mobile-only bank – paperless, signatureless, branchless bank. It is completely online.   Digibank is part of DBS Bank – DBS Bank is a leading financial services group in Asia, with over 280 branches across 18 markets. It is headquartered in Singapore with presence  in Greater China, Southeast Asia and South Asia.
What are features of Digibank by DBS
No Minimum Balance
Savings Bank Interest upto 7%
Debit Card

With DigiSavings Bank  you will get physical debit card – that can be used anywhere including online and point of sale transactions, as well as overseas.

You also get free unlimited cash withdrawals at nearly 2,00,000 ATMs across India.

Exclusive Deals and Cashback

Monthly Cashback offers for qualifying transactions

Exclusive deals and offers for DigiSavings customers

Pay Credit Card bills of other banks by adding them as Biller
DigiBank UPI to connect your other bank accounts – UPI on digibank enables you to manage all your bank accounts from one single app, you send and receive money using a virtual payment address (VPA – yourname@dbs ) without any other account information. No need to disclose or remember account details, passwords anymore. As always it's simpler and safer with digibank.
Invest in Mutual funds through DigiBank App – With digibank, you can now get started instantly with Mutual Fund investments. Purchase, track & redeem Mutual Funds on the go along with starting of SIPs seamlessly
You can make payment by scanning Bharat QR Code –  Make payments using your digibank app at all Bharat QR enabled stores and websites. Just log in to digibank, select pay using QR code and scan the Bharat QR code.
Budget Optimizer – helps to use budgets, track expenses etc.
Samsung Pay:  Now, use your digibank debit card to make purchases, almost everywhere, using your Samsung phone! Simply register your digibank debit card and swipe up the home screen to launch Samsung Pay app, authenticate via IRIS/finger print/PIN and tap to pay at various stores.
payWave  Contactless payments:  The latest innovation in VISA payments that let's you make cashless, contactless, PINless payments. Yep, you just have to wave your digibank debit card at a payWave enabled terminal to pay for transactions up to Rs. 2,000. No swiping or dipping is required as your digibank debit card is enabled with VISA payWave.
How much is the Interest on Savings Bank Account
You can earn up to 7% interest on your savings account (also known as digiSavings).  However, in practice it's a little more complicated. You will earn:
| | |
| --- | --- |
| Balance upto Rs 1 alkh | 6% Interest |
| Any balances over and above Rs. 1 lakh and up to Rs. 2 lakhs  | 7% interest |
| Any balances over and above Rs. 2 lakhs and up to Rs. 5 lakhs | 5% Interest |
| Any balances over and above Rs. 5 lakhs  | 4% interest |
How to Open the DigiBank Savings Account?
When you first signup with Digibank,  you will get Digibank e-wallet. It comes with a virtual debit card, bill payments, budgeting, expense tracking, and powerful customer support. Opening a digibank e-wallet takes less than 90 seconds.
DigiSavings is full-featured savings account that comes with everything you'd expect: deposits, interest, a debit card, fund transfer, UPI and no minimums or maximums. digiSavings also comes with everything in digibank e-wallet. You can convert to a digiSavings account by completing your biometric authentication at any of the partner stores. . You can visit any DBS branch or Cafe Coffee Day store or call an agent (See details).
Cashback offers for monthly transactions 
Digibank gives you cashback for following transactions and the cashback amount is credited to your account every month. You get the points (digi  Buck) and each digi Buck = 0.50 paisa
Classic: Collect 500 digi Bucks and get Rs.250 cashback 

Premium: Collect 1000 digi Bucks and get Rs.500 cashback 

Elite: Collect 2000 digi Bucks and get Rs.1000 cashback
Transactions for the month (digi Bucks will be credited only for the month in which the transactions have been done)
Activity

Transaction

DigiBucks

INR Equivalent

Funds transfer (Credit)

Minimum Rs.20,000 using UPI / IMPS

100

50

Limit of once per *month only i.e only first credit of Rs. 20k or more will be rewarded with digi Bucks.

Debit Card spend (Domestic)

Rs 2000 – 5000

100

50

All purchase transactions on POS / e-POS (i.e. transactions at merchant outlets and online transactions) made using digiSavings VISA Debit Card for that particular *month only. 

Rs 5001 – Rs 1000

200

100

Rs 10000+

300

150

Auto BillPay

Per active biller

50

25

Only registered bills paid using digibank will be rewarded with digi Bucks.

Debit Card spend (International)

Rs.5000 or more

200

100

Debit Card transactions made in a foreign currency outside India for shopping ,dining, etc. (Online/ Offline).

Internet banking

Min 1 login in a month

25

12.5

digi Bucks will be awarded only on the 1st login of the month.
One time transaction – Transact once, Earn digi Bucks every month!
Activity

Transaction

DigiBucks

INR Equivalent

Fixed Deposit

Per FD of Rs.25,000 or more

100

50

Earn 100 digi Bucks as long as the Fixed Deposit is active. Tenure of the FD should be 6 months or more.

Recurring Deposit

Per RD of Rs.2000 or more

100

50

Earn 100 digi Bucks as long as the Recurring Deposit is active. Tenure of the RD should be 6 months or more.

Mutual Fund (SIP)

Unique SIP of Rs.2000 or more

100

50

Get 100 digi Bucks every month per SIP instalment payout.

Mutual Fund (lumpsum)

Rs. 5000 to 20,000

100

50

Earn digi Bucks as long as you stay invested in Mutual Funds.

Rs 20001 to 50000

200

100

Rs 50001+

300

150

Home Loan (1stdisbursement)

Any amount

900

450

Earn 900 digi Bucks

Personal Loan

Any amount

400

200

Earn 400 digi Bucks
Please share your feedback and comments about DigiBank by DBS in the comments box below.