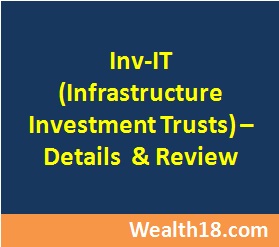 If you are wondering what is Inv-IT or what is the meaning of Inv-IT, then this post should clarify some of these things:
What are Inv-IT (Infrastructure Investment Trusts)?
Infrastructure Investment Trusts (InvITs) are similar to mutual fund companies that allow pooling the infrastructure projects into separate trust and allow investors to invest in the units of InvITs. Investors will get the portion of income from such infrastructure assets.
Regulations
InvITs are regulatedby SEBI in India. SEBI notified SEBI (Infrastructure Investment Trusts) Regulations, 2014 on September 26, 2014, providing for registration and regulation of InvITs in India.
Structure: InvITs are set up as a trust and registered with SEBI. An InvIT has 4 parties –  Trustee, Sponsor(s) , Investment Manager and Project Manager.  Sponsor is the company which sets up InvIT. It should have networth of more than Rs 100 crores, have to hold atleast 25% in InvIT for atleast 3 years.
Features :  The InvIT have to be listed on stock exchange.  InvITs which propose to invest at least 80% of the value of the assets in the completed and revenue generating Infrastructure assets, shall :
raise funds only through public issue of units.

have a minimum 25% public float and at least 20 investors.

have minimum subscription size and trading lot of Rs ten lakhs and Rs five lakhs respectively.

distribute not less than 90% of the net distributable cash flows to the investors

undertake full valuation of invested assets atleast once a year and half yearly updation of the same.

may invest the remaining 20% in under-construction infrastructure projects and certain other permissible investments. However, the investments in under-construction infrastructure projects shall not be more than 10% of the value of the assets.
Minimum Investment:  Since it carry higher risk, the entry barrier for investment is high. Minimum Investment in InvIT is Rs 10 lakhs during IPO and Rs 5 lakhs in secondary trading market.
Advantages:
It helps companies monetise healthy infrastructure assets and provide a channel for investors to buy a stake in infrastructure projects.

Funds raised can be used to reduce debt and invest in their other projects that could be stuck due to lack of funds.
What's in for the investors:
The trust distributes a proportion (in the case of IRB Inv-IT fund, it is 90 per cent) of the income generated from these projects to investors. So the revenue earned by the infrastructure  projects and other revenue streams including interest and dividend earned from other investments, will have to be distributed.
If you are a high net worth individual (HNI) and willing to take some risk, you can consider this avenue InvIT as an investment option for long term. This should give you a decent payout above the risk free interest.
Taxation :  Favourable for investors
Dividend income is tax exempt

No capital gains are levied if units are held for over 3 years and sold through the exchanges.

There is a small withholding tax for interest income to NRI unit holders.

Further, there is the pass-through structure of InvITs mandating distribution of a minimum 90% of net-distributable cash and nil dividend distribution tax.
Current open Issues for InvIT
Currently first InvIT issue is open – IRB Inv IT (3rd – 5th May 2017)
[xyz-ihs snippet="ad1″]