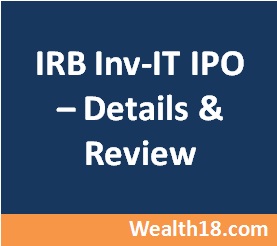 Update: 4th May Day 2: IRB InvIT Fund IPO subscribed 62% on Day 2. Institutional Investors' portion was subscribed 49% and other investors 77 %.
Engineering company IRB Infrastructure on became the first firm to announce a public offer in the InvITs space with a Rs5,000 crore plus public issue of its fund opening on 3 May.
What are InvIT :  InvITs or infrastructure investment trusts are those debt instruments which be traded in the market and can act as investment vehicles for the sponsors. The listing of instruments enable promoters of infrastructure to monetise completed assets and raise funds for other long-term projects.
Infrastructure investment trusts are similar to mutual funds that pool investment from various category of investors and invest them into completed and revenue generating infrastructure projects and thereby creating return for the investor. 
Read More details on – Inv-IT Meaning, Details & Review.
Issue Details of IRB InvIT Fund IPO:  
IPO Open :  03 May – 05 May 2017

Issue Price band: Rs 100 – 102 per unit

Issue Size: Rs 4654 crores

Market lot :  10000 units and then in multiples of 5000 units

Minimum Investment:  Rs 10 lakhs

Book Running Lead Managers :  IDFC, Credit Suisse, ICICI


isting: BSE/NSE
Background
The issue comprised of a fresh issue aggregating up to Rs 4,300 crore by the Trust and an offer for sale of up to 3,47,61,770 units by IRB Infrastructure Developers, Modern Road Makers Private Limited, Aryan Toll Road Private Limited, ATR Infrastructure Private Limited and Ideal Road Builders Private Limited
As per InvIT regulation, sponsor will hold 15 percent units for initial 3 years.
The Trust, which has been settled by IRB Infrastructure Developers (sponsor), primarily intends to own, operate and maintain a portfolio of six toll-road assets in the Indian states of Maharashtra, Gujarat, Rajasthan, Karnataka and Tamil Nadu. These toll roads are operated and maintained pursuant to concessions granted by the NHAI. These toll roads projects are :
Bharuch–Surat NH 8,

Jaipur–Deoli NH 12,

Surat–Dahisar NH 8,

Tumkur–Chitradurga NH 4,

Omalur–Salem–Namakkal NH 7 and

Talegaon–Amravati NH 6.
Since theAmritsar-Pathankot road project has also completed two years of operations, the complany will include it in the trust over the next six months, making it the seventh asset under the InvIT fund.

The Trust has been assigned a rating of 'AAA(Is)/stable' by CARE Ratings, subject to the Trust Group's debt exposure not exceeding Rs 1,000 crore post the issue while its external senior debt has been assigned a long-term rating of 'AAA/outlook stable' by India Ratings, assuming that the Trust's consolidated external debt as on March 31, 2017 would be up to Rs 1,000 crore.
Promoters holdings:
Objective of the issue:

The majority of the IPO proceeds, amounting to Rs3,350 crore, will be utilised to repay the external debt of the underlying SPVs and the balance remaining Rs1,700 crore will be utilised to pay back the sponsors' sub-debt and equity. The Rs 1,700-crore payback will improve IRB's net debt-equity ratio to 1.8:1 from 3:1
Anchor Investors:  The IRB Infrastructure Developers' InvIT Fund has allotted 20.53 crore units on an average of Rs 102 to 28 anchor investors for a sum of Rs 2,094.50 crore. Anchor investors include international and domestic investors such Government of Singapore, Deutsche Global Infrastructure Fund, Birla Sunlife Mutual Fund and HDFC Standard Life Insurance Company are among the anchor investors.
Financials:
The offer document states that the total combined income of all project SPVs for the financial year 2016 stood at Rs 1,003.8 crore
The only income the Trust generates on these assets is in the form of toll collection from these road assets and interest on cash in their books. According to SEBI guidelines on the issuance of InvITs, the Trust needs to distribute at least 90% of this distributable cash to the unit holders in the form of dividend, which will be tax free. The Trust anyways is exempted from dividend distribution tax.
The trust is likely to offer a 10-12% return to investors.
While the enterprise value is Rs 8,000 crore and bank loans are around Rs 3,650 crore, the equity value stands at around Rs 4,300 crore. But the company also has subordinate debt.
Even as the combined financial statement of the six project SPVs shows a loss of Rs 76 crore in the year ended March 2016, experts say that it had high cash profit during the year and the loss was mostly on account of depreciation and amortisation expense. Also, in case of such projects there is more certainty on revenue growth as one can project the rise in toll tariff and increase in traffic on the highway and that makes it a decent investment option.
Risks:
Valuation as compared to its peers:
IRB's total road portfolio comprises 22 projects covering 10,000-lane kms across eight states of which 14 are already operational. GMR Infra, MEP Infra and IL&FS Transportation also have investment trusts registered with the Sebi.
Brokerage Recommendations:
Should you invest: 
Note that the trust has been assigned a rating of AAA, so the expected return is stable and should be similar to debt products. Experts believe that the underlying dividend could be 10-12% which is higher than bank deposits etc. So there may be a listing gain of 20% so that the average return comes in the range of 8-10%.  The minimum investment is 10 lakhs so mainly for HNI & Institutional investors.
Disclaimer:  The articles or analysis on this website should not be constituted as Investment advice. Please consult your financial advisor before making any investments.