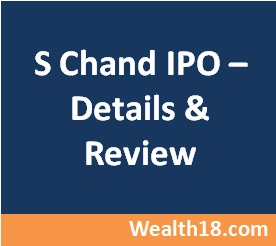 Allotment Status: S Chand IPO allotment status will be available on Link Intime's website. Click on this link to get allotment status.
Update: Day 3:

S Chand IPO issue is oversubscribed 60 times on day 3.  (QIB – 44 times, Retail 5.48 times,  NII – 204 times)
Update: Day 2:  S Chand IPO issue is already oversubscribed 2 times on day 2.  (QIB – 2.68 times, Retail 2.24 times,  NII – 0.4 times)
S Chand & Co , the leading publishing and education service enterprise is coming up with its IPO on 26th April.
Issue Details of S. Chand IPO:  
IPO Open :  26th April – 28th April 2017

Issue Price band: Rs 660 – 670 per share

Issue Size: Rs 325 crores  ( XX  Shares)

Market lot :  22 shares

Minimum Investment:  Rs 14740 (Upper band)

Book Running Lead Managers :  Axis, Credit Suisse, JM Financial

Registrar – Link Intime

Listing: BSE/NSE
IPO Issue Allocation
Qualified institutional buyers (QIBs) –  50% of the total issue size.

Non-institutional investors (NIIs) –  15% of the issue size.

The retail quota limit in the issue = 35% of the issue size.
Background
S. Chand Group is the oldest and one of the largest publishing and education service enterprise with footprints across the nation with 50 branches, 60 marketing offices, exporting to 40 countries, 15,000 titles and 1500+ authors reaching out to 20 million students across 40,000 school & educational institutions, state of the art printing and publishing facilities and 2000+ employee. The company offers 53 consumer brands across knowledge products and services, including S Chand, Vikas, Madhubun, Saraswati, Destination Success and Ignitor.
The company derives over 72.49% of its revenue from K-12 education content company, and boasts of having a strong presence in the CBSE/ICSE affiliated schools. It sold 35.47 million copies, and a total of 67 of its titles managed to sell at least 50,000 copies each, while the recently-acquired Chhaya Prakashani sold another 9.88 million copies of its titles. The company had contractual relationships with at least 1,958 authors and co-authors for over five years as on March 31, 2016. Besides, its acquisition of Chhaya in December helped it gain contractual relationships with another 24 authors.  It has an in-house sales team of 697 professionals, who work across 58 branches and marketing offices across India.
Overall, its sales network consisted of 4,907 distributors and dealers as of June 30, 2016. Chhaya acquisition has just expanded its presence to an additional 746 distributors and dealers as of December 1, mainly in the eastern India.  Over 85 per cent of its printing requirements are met by its Sahibabad and Rudrapur facilities. As on June last year, the company had 42 warehouses that were located in 19 states.
Promoters holdings:
The OFS consists of to 60 lakh equity shares amounting to Rs 404crorefrom Everstone Capital, IFC and promoters. Post IPO,the stake dilution will be as follows:
a)Promoters (From 58.3% to 46.7%)
b)Everstone Capital (From 32.3% to 13.9%)
c) IFC (From 9.4% to 8.1%)
Objective of the issue:
 The IPO comprises fresh issuance of shares worth Rs 325 crore and an offer for sale of 6,023,236 scrips by the existing shareholders, the company said in a statement. At the upper end of the price band, the public issue is expected to fetch Rs 728.55 crore.
Proceeds from the issue will be utilised for repayment and prepayment of loans as well as for general corporate purposes.
The company plans to repay term loans availed earlier by it and one of its subsidiaries, EPHL, which was utilised to fund Chhaya acquisition. A total of Rs 152 crore of the fresh issue will be utilised for this. Besides, Rs 88 crore with be spent on repayment or prepayment, in full or in part, of certain loans availed of by the company and two of its subsidiaries, VPHPL and NSHPL.
Anchor Investors:  Will be available one day before the IPO opens
Financials:
Consolidated revenues for the firm has grown at a CAGR of 32.64 % during the same period to Rs 540.62 crore in FY16 from Rs 174.64 crore in FY12.

Ebitda for the five-year period grew 47.47 % to Rs128.21 crore.

The company has reported a 33.48 % compounded annual growth rate (CAGR) in consolidated profit after tax and before minority interest at Rs46.64 crore in FY16 compared with Rs 14.69 crore in FY12.

Consolidated operating revenue in K-12 segment showed a CAGR growth of 46.83%, higher education at 11.28 %, test preparations at 15.31 %, technical and professional segment at 8.43 %, while early learning at 240.81%.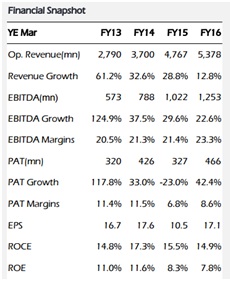 Risks:
In recent past, CBSE issued two circulars advising CBSE schools to use only NCERT printed content for all classes. Such circulars may reduce demand for the company's educational content among CBSE-affiliated schools, as they also recommended that such schools should avoid insisting that students purchase additional print content from private content providers.

Also, out of the 88 premises used by the company, 85 are leased from group companies and third parties with whom the company has lease or licence arrangements.

Besides, top 20 authors contributed to 48.94 per cent of our total consolidated revenues from operations.
Valuation as compared to its peers:
Navneet Education is the nearest listed peer of this company. The stock trades at 25.5 times its trailing 12-month EPS. The scrip has climbed 94% in the past one year and 185% in past three years. Brokearge Motilal Oswal Securities expects this peer to clock 22% revenue CAGR and 26% PAT CAGR over FY17-19. The brokerage values this peer firm at 20 times FY19E EPS.
At upper price band of Rs 670 per share, S. Chand would trade at 39.20 times its dilutive EPS of 17.09 for FY 2016. The issue looks expensive
Brokerage Recommendations:
| | |
| --- | --- |
| LKP Researh | Subscribe for Listing Gains |
|  GEPL | Subscribe |
| ICICI Direct | Subscribe |
| Hem Securities | Subscribe |
Should you invest: 
Thought the brokerages are suggesting to subscribe, the issue is expensive as compared to its other listed peer (Navneet Education). However, given that it is the market leader, some investors will buy it.
Disclaimer:  The articles or analysis on this website should not be constituted as Investment advice. Please consult your financial advisor before making any investments.