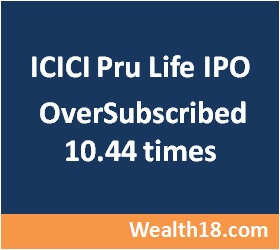 Following a slow start on first two days, the IPO for ICICI Pru life is over-subscribed 10.44 times on the last day of subscription (21st Sep 2016).
The IPO has received bids for 138.58 crore equity shares against issue size of 13.23 crore shares (excluding anchor investors' portion). 
Qualified institutional buyers oversubscribed 11.83 times

Non-institutional investors' category 28.55 times

Retail investors oversubscribed 1.4 times and

Shareholders' quota 12.2 times.
I already posted the details of ICICI Pru LIFE IPO and its review in my earlier post. See this link.
On Day 1 – 19th Sep –  IPO subscribed 15% n Day 1 (Retail – 25%, NII – 4.48%, QIB – 6%, Shareholder quota – 20%)
Grey Market Premium (GMP) – In the grey market, ICICI Prudential shares are quoting at a premium of Rs.20-22 per share, but off the highs of Rs.25-26 that was seen over the weekend.