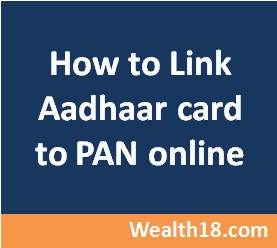 Government has made it mandatory to link Aadhaar card to your PAN before 30 July otherwise, PAN card may be rendered invalid.  However, a case is pending in Supreme court to challenge its constitutional validity.
To be on safer side, you may want to link Aadhaar card to PAN online – the process is quite simple.
Login to Income Tax efiling website – https://incometaxindiaefiling.gov.in/

Under Profile Settings tab – there is an option "Link Aadhaar".

You need to enter your Aadhaar number & Name as per Aadhaar

The Aadhaar will be now linked to your PAN.
If you data is different that what's mentioned on your PAN, the Aadhaar will not be linked to your PAN. In case your details in PAN and Aadhaar are not matching, you can see how to correct these – Read details in my other post.
One of the main benefits of linking Aadhaar to PAN is that when you submit Income tax returns online, you an e-verify the tax returns using this Aadhaar.
Update: IT department has now launched a new facility to link PAN with Aadhaar where you do not need to login to efiling portal. Read details
[xyz-ihs snippet="ad1″]