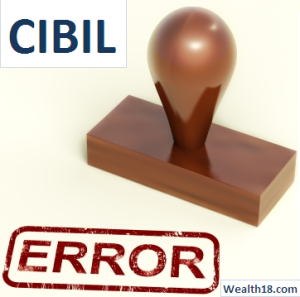 In my earlier post, I explained – How to check your CIBIL report & score online.
Once you have downloaded the report, you should check whether the information mentioned is correct and belongs to you.
Have you noticed any entry which does not belongs to you ? Are there any errors ? Are you in CIBIL defaulter list because of wrong data?
In this article, I will explain How to rectify such errors in your CIBIL report
1) Get a copy of your CIBIL report:
Read my post – How to get CIBIL report / score online
2) Identify the discrepancies:
Once you get the report, you should go through the report carefully. Check Basic details like Name, DoB, Address, Transactions etc are correct.
Errors / Mistakes can fall in any of the 4 categories
On your personal information

Account details

Ownership status

Duplication of accounts
3)  Raise a dispute:
If there are any mistakes, you can raise dispute with CIBIL.
Logon to Cibil's dispute resolution.   https://www.cibil.com/online/file-consumer-dispute.do
Enter details – Name, date of birth, address,
In addition, you need to enter –  'control number' (It is a 9-digit number found on the top right hand side of your CIR) and the nature of the dispute.
4) Dispute Resolution
Once the dispute is filed, CIBIL will carefully verifies the details provided by you. It gets in touch with the concerned lender and lets them know about dispute raised by you.
After the bank authenticates the dispute raised by you, CIBIL will rectify the discrepancy and inform you accordingly.
The dispute resolution process takes about a month to get complete. After you receive the status of dispute, it is advisable to check the CIBIL report again to ensure that data is corrected.
Summary
It is important to check your CIBIL report periodically ( at least Annually) to see if the data in CIBIL report is correct. If not, then get it rectified as soon as possible.