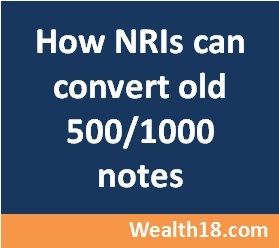 Latest Update: RBI has extended the facility for NRI to deposit old notes at designated RBI offices by June 30 2017. Under new facility, NRI can carry upto Rs 25000 (as per relevant FEMA regulation) via declaring them to customs and deposit it into RBI offices at in Mumbai, New Delhi, Chennai, Kolkata, and Nagpur.
NRI travelling to India should go through the "red channel" at the airport, fill one page declaration form. A stamped document will be issued by Customs detailing the number of notes, date etc.
Documents required to be submitted at RBI office:
Stamped document from Customs

Passport & 1 copy

ID – Aadhar, PAN

Declaration that the person has not used exchange facility earlier

Copies of bank statement to proof that notes were not deposited earlier.
The process is quite cumbersome and onerous to all our NRI friends.
---
Many NRI are now stuck with the 500 / 1000 rupee notes and wondering what to do with these and how can they get it exchanged. Here are few tips:
1. Carry Cash with you if you are travelling to India : If you are travelling to India, you can take your cash with you.
You can deposit or exchange these in banks before 31-Dec-2016. Make sure that you carry some form of ID (PAN etc).
If you are travelling after 31-Dec-2016, you can deposit these at RBI offices till 31-Mar-2017.
2. Deposit Cash at Indian Banks in your country – Many NRI want this option, but unfortunately this option is not available. There is no guidance for Indian Bank (foreign branches ) to accept Indian currency.
3. Deposit old currency into your NRO Account – If you are travelling to India before 31-Dec-2016, you can deposit old 500 / 1000 notes into your NRO Account.
4. Authorise other person in India to deposit money on your behalf – If you have notes in India, you can authorise other person to deposit notes on your behalf in your account. Please given authorisation in writing along with ID proof for yourself and that person.
5. Send money with your friend / relative who is travelling to India – If any of your friend / relative is travelling to India, you can ask them to take the money with themselves and deposit in your account. You need to give them the authorisation letter as per point 4 above.
Summary – NRI are facing lot of challenges as not all of them are travelling to India soon, nor their relatives or friends.
Many people have contacted their respective embassies, but the embassies has not received any guidance from Indian government in their regard. Hopefully it will be resolved soon.
You should not panic as there is time to get it converted and we are hoping the authorities will come up with a solution suitable for NRIs. 
Note: As per current laws, people are not allowed to bring in more than Rs 25,000 rupees at a time.
Many people are searching for various ways to convert black money into white money – Read here
Many people are using Paytm (mobile wallet) to make day to day transactions without any need of cash. Read how you can use Paytm here to make payment to local kirana stores and other purchases. Read here
If you have any comments and any other tips, please share with the group. Please use comment box below.
[xyz-ihs snippet="ad1″]