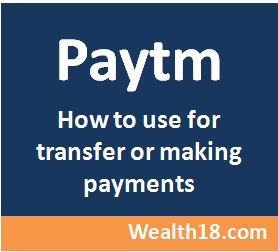 When the whole country is struggling to exchange old currency notes & depositing cash into Bank, mobile payment wallets are coming handy. You can use these wallets to make payment for grocey, shopping , cab booking etc. Even your local kirana store man can use it for receiving payment.
One of the most popular mobile wallet in India is Paytm. In this post, I am providing more details on paytm, how you can use it and get benefits now.
What is Paytm?
Paytm is the largest online payment platform in the country claiming to have 15 crore users. It is a digital platform that allows you to transfer money into an integrated wallet. You can transfer money to the wallet using online banking, debit card or credit card, deposit cash via select banks / partners.
Using the paytm wallet, you can make payment for multiple goods & services . You do not need cash. You can use it for making recharge mobiles, metro cards, DTH, landline, electricity, gas bills, book tickets, hotel, movies etc.
How to use Paytm
1) Install Paytm app on your mobile
2) Setup account using your mobile phone number and email ID
3) Transfer cash to Paytm account / wallet using net banking, debit, credit card. You can add up to Rs. 10,000 in a month in the wallet. if you want to increase the monthly limit (upto Rs 1 Lakh), then you need get the KYC (Know Your Customer) process done.
4) You are now ready to make payment or even send money to other people's paytm wallet.
How the business / merchant sign up for account to receive payment
For merchant account, you need to sign up using link "Partner with us".
You need to enter basic details and your Paytm account will be ready in few minutes. You will get a unique QR Code (like Bar code) which will be unique to your account. Customers can pay you money by scanning this QR Code.
How to receive payments through Paytm?
There are two options to transfer money or get payment via Paytm – 1) Mobile number and 2) QR code.
a) Receive money via Paytm using mobile number
The customers can pay you money directly to your mobile number. In their paytm app, they will select "Send Money to mobile number". They will enter your mobile number and amount and then pay. This is easiest way to get money via Paytm. The money instantly will get credited to your paytm account.
b) Request money via Paytm
You can also generate a payment request using 'accept payment' . Enter your friend/ customer mobile number, amount and particulars. Click on request money and payment request will be generated.
Your friend / customer will open his paytm app and click on "Send" button under Payment request tab.
Money will be credited to your account. There is no need to share your mobile number.
c) Receive money through standard QR Code
You can print your generic QR Code and put outside your shop. You donot need to do anything else.
Customer has to click on "Pay" option and scan this QR Code. They enter the amount and submit for payment.
As soon as the customer makes the payment, you will get the SMS. Once you receive the SMS, you can handover the items to them.
d) Receive money through QR Code (per transaction)
In this option, no mobile number is required or needs to be shared.
Click on "Accept Payment" –> Click on Square box –> Enter amount and description –> Click Generate code
Paytm will create a temporary QR Code for this payment only.
Your friend or customer can now make you payment using this QR Code. They will open their app, click on Pay option and just scan that QR Code and click on Proceed. Money will instantly transfer to your paytm wallet.
How to get money or withdraw money from the Paytm wallet to the bank account?
You can transfer money from your paytm wallet to your bank account using following steps:
Tap on "Passbook" option and then choose "Send Money to Bank" option .
Enter amount, account holder name, account number, IFSC code etc. In the normal account, you can transfer upto Rs 5000 and transfer higher amount in case of merchant account.
Normally the money will be credited in your account within 1 day, but sometime it may take 3-5 days.
Summary
You can use this mobile wallet to making payments to your friend or shop keeper. You can also help shopkeeper to accept payment via Paytm.
Feedback
Please share your experience about Paytm? Do you use it regularly? Have you started using it now after currency ban?
[xyz-ihs snippet="ad1″]
Many people are looking for different ways to convert black money into white money. Please read the post here for some of the common methods people use – but beware income tax dept is watching…Read here