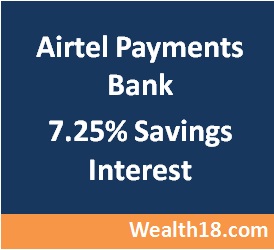 Jan 2017
Airtel has now rolled out its payment bank across India.  If you want to earn its attractive 7.25% interest, you can open an account.  You donot need to submit any kind of documents as it is a paperless approach, using Aadhaar-based e-KYC. 
Anybody who is an Airtel user, having an Aadhaar card, PAN card and carrying a smartphone with Internet connectivity can become a member of Airtel's Payments Bank and earn an interest of 7.25% p.a by depositing a maximum of Rs.1 lakh.
Here are the steps for you to open an Airtel Payments Bank account:
1) Register at www.airtel.in/money
Users Who are already a member of Airtel money and are using the wallet for making the transaction, only needs to update their app to use the payments bank facility.
2) Once you have opened the website, you need to click on registration and then enter all the credentials. Your mobile number will be your account number for the Payments Bank. You need to create mPIN for security purpose. Do not disclose your mPIN to others.
3) After entering the details click on the submit button and generate OTP. It is a one-time password used for authenticating and verifying the user. After entering the OTP you will be successfully registered for using Airtel app for transferring money. A successful registration message will be displayed on the screen. You can avail additional discounts through various e-stores displayed below using your Airtel money.
5) Now can download the app and make use of payments bank. There is only one app from Airtel which provides you with all the facilities including mobile summary related to calls and data usage, wallets and payments bank for making a transaction.
6) Make sure you are adding money to the payments bank to earn interest. Adding money in 'My Airtel's' account will not give you any interest because it is a wallet.
You need to further validate your payments bank section in the app using your Aadhaar number, PAN card and nominee name before you add money and earn interest over it.
7) In App, click on Open Savings Account . Enter your Aadhar Card number and PAN number. After confirming your details in payments bank, you need to add money to your account which is free of cost.
8) You can send money to any person, merchants user, and banks that will not apply any additional charges when transferring money up to Rs.10000 per day. An additional charge of 0.5% will be levied if transactions are made over and above Rs.10000 during a day. However, there is no capping or additional charges levied for making transactions between Airtel's Payments Bank. It's free.
9) For doing an instant transfer of money, Airtel Payments Bank is using IMPS platform and charges are levied as per the RBI rules for using their IMPS facility.
10) Free Minutes to Prepaid users:  Prepaid users who are opening the account for the first time will get free minutes. You need to add money to your account and get additional free minutes with the same denomination, subject to a maximum capping of Rs.500. For example, if you have added Rs.200 for the first time to your payments bank account, you will get 200 free minutes. If Rs.500 is added for the first time to your payments bank account, you will get 500 free minutes. But, if you add Rs.700 for the first time to your payments bank account, you will still get 500 free minutes. The validity of free minutes will be one month and the offer is valid up to 31st March 2017, according to sources.
Things to Note:
1) For biometric verification, you need to visit the nearest banking point (Airtel stores).
2) It would charge a fee of 0.65% on all cash withdrawals from the account.  For online transfer and payments upto Rs 10000 per day, there is no charge.
3) The bank will allow transfer of money to any bank account in India at a cost, but money transfers from an Airtel number to another Airtel number within the Payments Bank will be free.
4) A customer will be able to withdraw cash only at the banking retail points. The bank will not offer debit cards to customers.
Nov 2016
Airtel has launched India's first payment bank and is offering 7.25% p.a. interest on Saving Bank deposits.
This is a pilot launch in Rajasthan and will be rolled out to other parts of the country soon.
Customers across Rajasthan will now be able to open bank accounts at 10,000 Airtel retail outlets

Only Aadhaar number required

to open the account – No other documentation required

Both airtel & non-airtel customers can open bank account with Airtel Payments bank

Interest rate of 7.25%

on the money depsoits in Savings Account

Money transfer to any bank account in India (Free money transfer from Airtel to Airtel numbers within Airtel Bank)

Personal Accidental Insurance of Rs 1 Lac with every Savings Account

At present no debit card is given. You can deposit and withdrawal across a network of Airtel retail outlets
On April 11, 2016, Airtel Bank became the first entity in India to receive a payments bank license from the Reserve Bank of India.
Kotak Mahindra Bank holds 19.9% in the Airtel Payments Bank.
Payment banks
cannot perform lending activities, so cannot given loans

can accept deposits of as much as Rs 1 lakh.
I will write more details on payment banks in my other post.
Airtel Bank's services can be accessed by
Airtel customers on their mobile phones through the Airtel Money app,

through USSD by dialing *400#; or

via a simple IVR by dialing 400.

Both the USSD & IVR options are available in Hindi and English language and work on simple feature phones as well.

Non Airtel customers can access Airtel Bank's services by dialing 8800688006.

Customers can also visit any designated Airtel retail outlet to access services (and not just the outlet where they have opened the account).
[xyz-ihs snippet="ad1″]