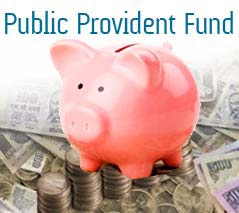 PPF is a risk-free and tax-free investment product that provides reasonably good returns. You can open a PPF account either directly through a post office or through a bank.  Opening a PPF Account with a bank is lot more convenient than through a Post Office. This is  because a PPF Account with a bank facilitates online funds transfer from your savings  account to your PPF account.
Read my other Post on -Why Should you invest in PPF
In this post, I will be explaining the steps for opening PPF Account online at the HDFC Bank
What are the conditions to open a PPF account online at HDFC Bank? 
For opening PPF account online, you need to meet following conditions:
You must be an HDFC Bank savings account holder.

You must have net-banking/ mobile banking enabled for your account.

Your 'Aadhaar' number should be linked to your account.

Your mobile number which is linked to your Aadhaar should be active, to receive an OTP which is used to e-sign/ e-authorise the opening of the PPF account instantly.
Process to open PPF Account Online
If you are an HDFC customer, you can open a PPF account online anytime, 24X7. The process is instant and paperless. 
Sign in to HDFC Bank NetBanking.

Under accounts, click on the banner for 'Public Provident Fund.'

Confirm the details shown in the next screen and enter the amount you want to deposit.

Choose if you wish to add a nominee and click submit.

If your Aadhaar is linked to your account already, your form will be submitted, and you will receive a message that your account will be opened in one working day.

If your Aadhaar is not linked, you must first link it, to be able to complete the process.

Once you have opened a PPF account online, you can transfer funds directly from your savings account to your PPF account.
Other Features for PPF Account at HDFC Bank
Transfer funds online from linked Savings Account.

Standing Instruction facility can be set online

View account statement online
General Conditions of the PPF Account
An individual can open only one PPF account and declare the same at the time of account opening.

No joint PPF accounts are allowed.

Account can be opened by Resident Individuals and Individuals on behalf of minor of whom he is guardian.

Non-resident Indians (NRIs) are not eligible to open an account under the Public Provident Fund Scheme. However, a resident who becomes an NRI during the 15 years' tenure prescribed under Public Provident Fund Scheme may continue to subscribe to the fund until its maturity on a non-repatriation basis.

Long-term investment for 15 years.

Attractive interest rate of 8 percent that is fully exempted from tax under Section 80C.

Account can be extended for a block of five years after maturity.

Minimum deposit amount of Rs 500 and maximum of Rs 1.5 lakh in a financial year. If the minimum amount of Rs 500 is not deposited in any financial year, a penalty of Rs 50 will be charged.

Deposits can be done maximum in 12 transactions.
How to transfer money online to HDFC PPF Account
You can tranfer money to your HDFC PPF Account using your HDFC Net Banking.
When you click on Account –> Transact –> Funds transfer to Own Account, you will see an option to Transfer funds to PPF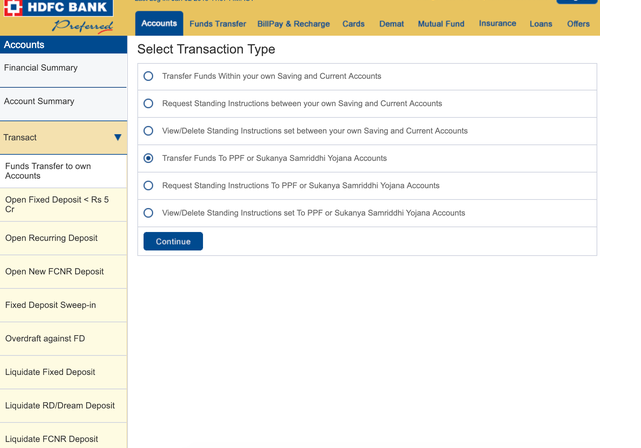 Other related post on PPF
Query/ Help / Suggestions
For any queries, comments, suggestions – please comment in the box below.