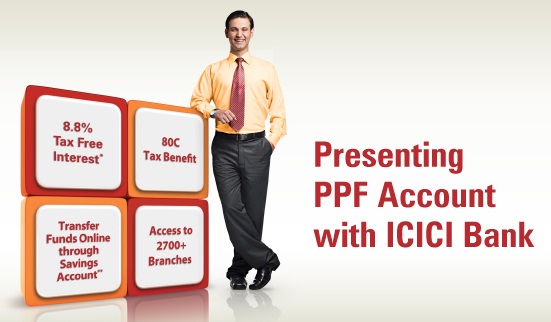 PPF is a risk-free and tax-free investment product that provides reasonably good returns. Read my other Post on -Why Should you invest in PPF
You can open a PPF account either directly through a post office or through a bank.
Opening a PPF Account with a bank is lot more convenient than through a Post Office. This is  because a PPF Account with a bank facilitates online funds transfer from your savings  account to your PPF account.
ICICI Bank Limited has been authorised by the Ministry of Finance to open PPF Account & now ICICI bank offers facility to open PPF Account online. ICICI Bank customers can open their PPF accounts online through their ICICI Bank Savings account if they have net banking facility. Once customers open their PPF accounts, they can view, access or print their PPF account statements. They can also make payments online with ease.
Through ICICI Bank Internet banking, you can:
Fill form online for PPF account

View your PPF account under your 'My Accounts' section in the logged in section

Transfer funds from linked Savings Bank Account online

View and print mini and detailed statement online
Steps to open online PPF Account in ICICI Bank
Logon to your ICICI Bank NetBanking Account

After login, you will see the "PPF Account" Online in Left sidebar
 Enter Details
 After entering these details, download & print the PDF application form.
 Documents required for opening PPF account with ICICI Bank

Form A

Passport size Photo

Copy of PAN Card

Residence proof – Passport/ Electricity Bill / Mobile Bill (if ICICI Bank is more than 5 years old)
Sign the form & submit at any ICICI Bank branch together above required documents.
No passbook facility by default
By default, no passbook is issued to PPF accounts which are opened through ICICI Net Banking. You will be able to view transactions online via netbanking. If you wish to have a physical passbook, you need to submit a written request at the designated base branch.
Read –  List of banks which are authorised to open PPF Account
Feedback: Please comment here if you have opened PPF account in ICICI Bank or in process of doing so. Please share your experience.