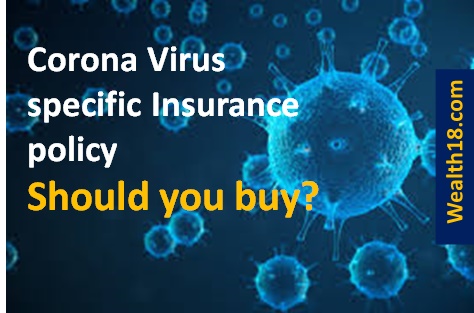 In view of on-going COVID-19 pandemic, Insurance companies are launching Corona virus specific insurance policies. It will be beneficial for the individuals who do not have any other health insurance.
Features of Corona Virus specific insurance policies:
---
These policies are intended to give you a lump sum amount or hospitalisation expenses in case you are diagnosed positive for Corona Virus. (depending on the policy)
These policies are for limited period – for 1 year only. It cannot be renewed.
These policies are for Indian Citizens.
There are some eligibility criteria related to age or travel history as well as waiting period etc. These are different for different companies.
These policies are typically for sum assured between Rs 20000 to Rs 2 lakhs.
The premium is in range of Rs 200 to Rs 2500 per annum.
If you have an existing health insurance policy, it will most likely cover for you hospitalisation costs. However, the lump-sum Corona Virus policies may be handy in case of you to provide additional lump sum cash to cover other expenses or loss of income etc. Note that the government's Ayushman Bharat scheme, which provides a basic Rs 5-lakh cover to 50 crore citizens, will cover the treatment of the disease as the resultant symptoms are all covered.
Companies offering Corona Virus Policies
Multiple companies are now offering the Corona virus specific health insurance policies. These policies are normally classified as a 'Need-Based Insurance' cover filed with the IRDAI under the regulator's Sandbox Regulation. As per the regulator, under sandbox regulation, insurers can sell innovative products on a pilot basis for a limited period.
Star health – Star Novel Coronavirus Policy
---
This policy will provide a lump sum payment to the insured person who has been declared positive by a government accredited test and has been hospitalised.
It will even cover those with international travel history
The Star Novel Coronavirus Insurance policy is available under two sum insured options of Rs 21,000 and Rs 42,000 at premiums of Rs 459 plus GST and Rs 918 plus GST respectively.
The policy is available only to individuals between the ages of 18 years and 65 years.
The sum insured is also on an individual basis. However, dependent children can be covered from 3 months to 25 years along with any one of the parents under this policy.
Exclusions:
Digit Healthcare – Health Care Plus policy
---
It is a flat benefit policy which will give 100% sum insured in case of a positive tested coronavirus case and 50% of the sum insured in case of just quarantine
Anyone upto

age of 75 years

can buy this policy
Sum Assured – Rs 25000 to Rs 2 lakhs
Starting premium is Rs 299 for a cover of Rs 25000. For coer of Rs 2 lakh, you need to pay a premium of Rs 2392.
Multiple individuals can be covered under the umbrella of one policy (Digit Health Care Plus Policy)
Exclusions:

The policy does not cover pre-existing disease. You can avail this policy only if you are not suffering from any respiratory-related symptoms like severe cough, respiratory diseases, breathlessness from the last four weeks.
The policy also has an initial waiting period of 15 days.
This policy does not cover people who have travelled to countries like China, Japan, Singapore, South Korea, Thailand, Malaysia, Hong Kong, Macau, Taiwan, Italy, Iran, Kuwait and Bahrain since December 1, 2019. If you contract the infection from a family member who has travelled to these places it will not be covered.
Further, quarantine at home is not covered under the policy.
ICICI Lombard – COVID-19 Protection cover
---
This policy on diagnosis of COVID-19 (+ve) will pay 100% of the sum insured irrespective of hospitalization expenses
The health cover is priced affordably at a premium of Rs. 149 and provides a sum insured of Rs. 25,000 including value added benefits such as Health Assistance and CHAT/Virtual assistance, tele-consultation and ambulance assistance, as part of the offering.
The policy is for the age group of

18-75 years

Exclusions:

The policy also has an initial waiting period of 15 days.
The cover also excludes people with travel history to any location overseas post December 31, 2019
Reliance General Insurance
---
It is a flat benefit policy which will give 100% sum insured in case of a positive tested coronavirus case and 50% of the sum insured in case of just quarantine
Age limit – 3 months to 60 years
Sum Assured from Rs 25000 to Rs 2 lakh
Add-ons – Loss of Pay or Job, Travel Exclusion Removal
Exclusion
Phone Pay Insurance – Corona Care Insurance Policy
---
The policy is offered in collaboration with Bajaj Allianz General Insurance.
This policy covers the hospitalisation expenses and doesnot give any lumpsum amount.
It also covers 30 days of expenses related to pre-hospitalization costs and post-care medical treatment
Customers don't need to undertake any medical tests before purchasing the Corona Care policy
Age limit: 18 – 55 years
Premium is just Rs 156 for an insurance cover of Rs 50000 for a person aged under 55 yrs.
PhonePe users can purchase their coronavirus insurance policy under the "My Money" section on the PhonePe app
Exclusions:

Waiting period – 15 days – you can claim only if you are diagnosed with COVID-19 disease after a waiting period of 15 days following the purchase of this coronavirus insurance
If you have travelled abroad in the last 30 days
If you have travelled to a city in India going through the coronavirus outbreak in the last 30 days
If you are already admitted in a hospital
Airtel Payments Bank
---
Airtel Payments Bank has tied up with Bharati AXA General Insurance to launch a coronavirus insurance policy.
Fixed cover offering 100% sum insured as a lump sum, if the policy holder is diagnosed positive or gets 50% if quarantined in a government hospital or military facility/establishment.
The policy can be purchased at a price of Rs 499 (including GST) for fixed sum insured of Rs 25,000.
The insurance policy can be purchased directly from the banking section of the 'Airtel Thanks App' or by visiting the nearest active banking point-of-sales (POS) of Airtel Payments Bank
Airtel Payments Bank and Bharati AXA General have also launched a group health cover for COVID-19.Under this policy, depending on the plan, a customer is entitled to a fixed per day benefit of Rs 500 or Rs 1000 paid for each day of hospitalization, up to maximum for 10 days
With no pre-medical check-up required, both the products are currently available for savings bank account customers of Airtel Payments Bank who are not suffering from COVID-19 or its symptoms. However, the release does not mention the minimum and maximum age limit to avail this policy.
Should I buy Corona Virus Policy?
---
If you have normal health insurance policy, that should cover any medical expenses for hospitalisation. However, if you have a risk of loss of income or job, then you can consider taking the corona virus policy (lump-sum benefit).
If you do not have any insurance policy, then you might want to consider taking the corona virus policy to cover yourselves against current risk. In addition, you should start thinking about taking a comprehensive insurance policy. ICICI and Digit Insurance offers the policy for individuals upto 75 years of age.