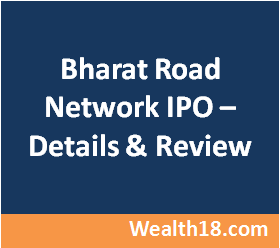 Bharat Road Network, a road / highways projects company is coming up with its IPO on XXXX.
Issue Details of Bharat Road Network IPO:  
IPO Open :  

Issue Price band: 

Issue Size: 

Market lot :  

Minimum Investment:  

Book Running Lead Managers : 

Registrar – 

Listing: BSE/NSE
IPO Issue Allocation
Qualified institutional buyers (QIBs) – 75% of the offer.

Non-institutional bidders –  15% of the offer.

Retail individual bidders  – 10% of the offer.
Background
Bharat Road Network Limited is a road build-operate-transfer (BOT) company in India, focused on development, implementation, operation and maintenance of roads/highways projects. It was incorporated in 2006 as a developer and operator for highways, road and related projects on a BOT basis. As per the letter arrangement dated February 16, 2017, it will manage all the road/ highway assets of its corportae promoter SREI Infrastructure Finance Limited (SREI). At present, all of its projects are implemented and held through special purpose vehicles, either through its Subsidiaries or in partnership with other infrastructure players. The company is  involved in operating toll based BOT Projects wherein it has the right to collect toll or user fees.
It also performs a range of project management functions, including design, engineering, EPC management and quality control. It also provides project advisory activities including, project management consultancy, project conceptualisation, commissioning, operation and management of the projects during the entire life cycle of its projects. It also undertakes debt syndication, refinancing and financial restructuring of its projects.
The company has a project portfolio consisting of 6 BOT projects, of which 2 are projects operational under Final COD, 3 are projects operational under Provisional COD and 1 is a project under Construction. Projects operational under Final COD and projects operational under Provisional COD are located in the states of Kerala, Madhya Pradesh, and Haryana, Uttar Pradesh and Odisha, respectively. Project under Construction is located in the state of Maharashtra. Projects operational under Final COD and projects operational under Provisional COD cover approximately 1,622.44 lane kms, including major and minor bridges and its project under Construction involves development of 400.24 lane kms, including major and minor bridges. Further, as of November 30, 2016 the average residual Concession Period of its BOT projects was approximately 18 years and 10 months in comparison with its average debt maturity profile of 9 years and 9 months.
Promoters holdings:
The list of the top shareholders of the company and the number of equity shares held by them is as below:
IPDC : 38.33%

SREI : 30.43%

OSPL Infradeal Private Limited :17.42%

IPDF : 12.90%

Make in India Fund : 0.91%
Objective of the issue:
The company proposes to utilize the funds which are being raised towards funding the following objects:
Advancing of subordinate debt in form of interest free unsecured loan to our Subsidiary, STPL, for part financing of the STPL Project ("STPL Sponsor Investment");

Acquisition of the subordinated debt in the form of unsecured loans/OCPIDs/warrants/OCDs, advanced/held by SREI to STPL, KEPL and MTPL ("Identified SPVs"); and

General corporate purposes.
In addition to the above, the company expects to receive the benefits of listing of its Equity Shares on the Stock Exchanges, including enhancing its visibility.
Anchor Investors:  Will be available one day before the IPO opens
Risks:
Financials: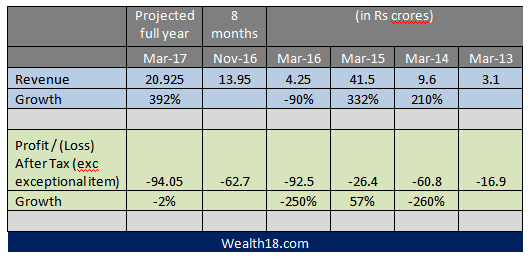 Valuation as compared to its peers:
Brokerage Recommendations:
Should you invest: 
[xyz-ihs snippet="ad1″]
Disclaimer:  The articles or analysis on this website should not be constituted as Investment advice. Please consult your financial advisor before making any investments.