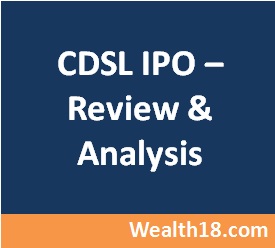 CDSL IPO Allotment Status Check Online –  You can check the allotment status at the Registrar website link below using your PAN number 
You can also send your PAN by comment below and we can check the status for you. As the retail quote was oversubscribed, you may get less or no allotment.
[xyz-ihs snippet="ad1″]
Registrar Website link to check allotment
https://cdslipo.linkintime.co.in/
https://www.linkintime.co.in/PublicIssues/
Also Read –  AU Financiers (AU Small Finance Bank) IPO Analysis – Opens on 28-June
Day 3:  CDSL IPO over-subscribed 170 times –  QIB 148 times, NII(HNI)  563 times, Retail 24 times
Day 2:  CDSL IPO over-subscribed 7.55 times –  QIB 6.5 times, NII 3.3 times, Retail 10.3 times
Day 1:  CDSL IPO fully over-subscribed.
Central Depository Services Ltd (CDSL), one of the two depository services providers in India, is offering its shares to public for subscription through an initial public offer (IPO), which opened on June 19, 2017.
Issue Details of  CDSL IPO:  
IPO Open:  19th June to 21st June

Issue Price band:  Rs 145 – 149

Issue Size:  53,422,169 Equity Shares

Market lot:  100 shares

Minimum Investment:  Rs 14900 ,  Max for retail – 1300 shares

Book Running Lead Managers:   Axis, Edelweiss

Registrar: LInk Intime

Listing: BSE/ NSE
 IPO Issue Allocation:
Employee Reservation Portion – 2% of the total issue size.

Qualified institutional buyers (QIBs) –  49% of the total issue size.

Non-institutional investors (NIIs) –  15% of the issue size.

The retail quota limit in the issue = 34% of the issue size.
 Background:
CDSL was promoted by BSE in 1999. Subsequently, BSE diverted part of its stake to leading Indian banks. CDSL facilitates holding of securities in electronic form and enables security transactions, off market transfer and pledge through book entry. It also offers other online services such as e-voting, e-locker etc. As of April 30, 2017, CDSL had 589 Depository Participants (DP) and 12.4 million investor accounts. CDSL has a market share of 43 per cent in cumulative demat accounts.
CDSL has a diversified source of revenue with 35 per cent coming from annual issuer charges(recurring in nature), 21 per cent from transactions(which is correlated to market and is volatile in nature) and 13 per cent from online data charges.
Promoters & Promoter Group holdings / Shareholder: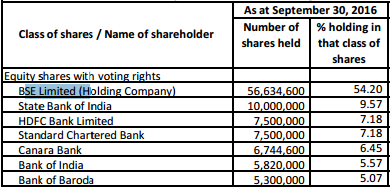 Objective of the issue:  
CDSL IPO is purely an offer for sale and the company does not intend to raise any fresh capital through this issue. Through this IPO, its existing promoter Bombay Stock Exchange (BSE) is selling 3.52 crore shares to public due to which its stake in CDSL will reduce to 24 per cent from 50.1 per cent currently. The objective of the IPO is also to get the benefits of listing.
Anchor Investors: CDSL raised 154.07 crore by issuing 1.03 crore equity shares to 15 anchor investors – SBI Magnum Tax Gain Scheme, ICICI Prudential, HSBC Indian Equity Mother Fund, Abu Dhabi Investment Authority–Behave, FIL Investments (Mauritius), Goldman Sachs India etc.
 Financials:

Risks:
CDSL does not has the flexibility to increase its fees as and when its costs go up as these are regulated by market regulator Sebi, which is a key risk in the business of CDSL.

Appointment of CERSAI as central KYC registration agency may have a significant adverse impact on the business prospects and result of operations of its subsidiary, CDSL Ventures.

A large proportion of company's business is transaction-based and dependent on trading volumes.
Brokerage Recommendations:
| | |
| --- | --- |
| Angel Broking | Subscribe |
| LKP Sec | Subscribe |
| Motilal Oswal | Subscribe |
| ICICIDirect | Subscribe |
| KR Choksey | Subscribe |
| Nirmal Bang | Subscribe |
| AB Money | Subscribe |
| GEPL Capital | Subscribe |
| Centrum Wealth | Subscribe |
| SPA Research | Subscribe |
Should you invest:  
At the upper end of the price band, CDSL shares are valued at 18.2 times its FY17 earnings per share, which is a reasonable valuation. While many brokers are suggesting to subscribe to this IPO, you should note that the net profit for last year has declined.
[xyz-ihs snippet="ad1″]
Disclaimer:  The articles or analysis on this website should not be constituted as Investment advice. Please consult your financial advisor before making any investments.