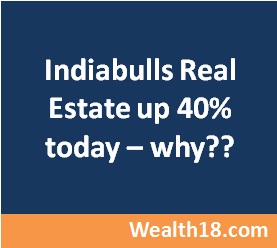 Today on 17th Mar 2017, shares of Indiabulls were up by 40%. It was trading at its highest level since 2011.
What was the reason such a big rally?
The Company's board in its meeting today considered the possibility of streamlining its existing 'residential', 'commercial' and 'leasing' businesses by segregating 'commercial & leasing' business carried on by itself and/or through its SPVs and vesting the same into 'Indiabulls Commercial Assets Ltd' (ICAL).
The company's management told CNBC-TV18 that it will either look for strategic partner or demerge the commercial leasing business.
The company further outlined that it may consider REIT listing in India and was looking at statutory changes for the same.
"In the recent past, there have been some marquee deals in this space. Government Investment Corporation (GIC) of Singapore recently took a stake in the commercial real estate business of DLF while Blackstone had bought into K Raheja Corp. Most large global investors have preferred to participate in the commercial / leasing market in India as the retail space has been going through a very sluggish phase with tepid demand.
Read my other post – 2017 Multibagger stock recommendations by brokerage houses.
[xyz-ihs snippet="ad1″]