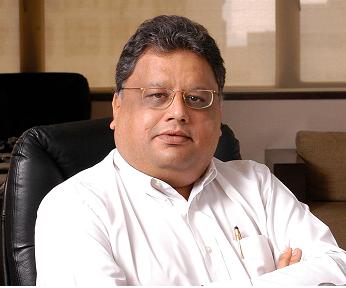 Speaking at a CII conference yesterday, Jhunjhunwala of Rare Enterprise said, "One should buy companies which have strong managements and good corporate governance. Always look at opportunities with tremendous growth potential."
Big bull Rakesh Jhunjhunwala is betting on four stocks – Rallis India, Titan, Colgate Palmolive and Praj Industries. Also read – Rakesh Jhunjhunwala Latest Portfolio Holdings
 He explains why he's betting on the above-mentioned four stocks:
Colgate Palmolive: The first thing which investors should look at is 'opportunity'. Without opportunity, there can be no economic activity and without economic activity, there can be no profitability. For example, if we look at Colgate Palmolive, I look at the present demand for toothpaste in India and the potential for growth in demand for toothpaste in future.
 Praj Industries: "I made a lot of money in a company called Praj Industries (up 50% YTD). Why? Because they used to make ethanol plants," says Jhunjhunwala. The opportunity for ethanol just went through the roof.
Titan: I would like to speak about Titan. Titan has been successful first because of Mr. Desai who was the founder of Titan because he imbibed in Titan a culture of excellence and a culture of quality and a culture of interpretation. It is a branded lifestyle retailer and the best is yet to come for Titan. The learnings are that you got to have good leadership, you got to think differently, and you got to have good culture.
 Investors should look at companies which have the potential to become large caps. What you need for that, you need scalability. When I invested in Titan at Rs 500 crore, I made a lot of money partly because Titan today is Rs 11000 crore company, explains Jhunjhunwala.
 Rallis India: I want to invest where demand naturally exists, says Jhunjhunwala. Then these are very important part of my investment. I invested in Rallis India (up 26% YTD). I made a large investment because there is no question that the usage of pesticides and seeds and all other agriculture inputs has to go through the roof, clarifies Jhunjhunwala.
 The logic is that you cannot increase food production without increasing productivity and this is one of the only means of increasing productivity, one of the main means. So because of the same reason, Rallis is going to go through the roof.