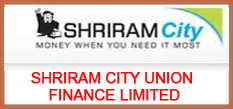 Shriram City Union Finance Limited – NCD Details & Review

In my earlier post, I explained about NCDs and whether you should consider it as Investment option.
After India Infoline Financial Services Ltd's unsecured bonds offering 12.75% per annum, Shriram City Union Finance Ltd has hit the market with a public issue of secured NCDs offering 11.75% per annum.
Company
Shriram City Union Finance Limited (SCUF) is a part of the Chennai based Shriram group of companies and the sister concern of Shriram Transport Finance. They are entering the debt market second time.
SCUF is incorporated in 1986 and is registered with the Reserve Bank of India as a deposit-taking non-banking finance company (NBFC) with its presence in gold loans, small business finance loans, auto loans, two-wheeler loans, personal loans and consumer durable loans. The promoter group companies hold 54.95% stake in the company at present. The company has a network of 927 branches as on June 30, 2012, out of which 654 branches are located in the southern states and 85 branches are located in Maharashtra.
The positive is that the advances book for the company is well diversified with the largest contribution coming from gold loans of around 40%.
Financials
For FY2012, the company has consolidated total income of Rs 2057 crore and PAT of Rs 338 crore. As on 31 Mar 2012, the company has AUM of Rs 13431 crore  and the company's capital adequacy stood at 17.4% (vs RBI stipulated 15%). Net NPA of company is 0.38%
Use of funds
Funds raised via NCD will be used in regular financing business and repaying some existing debts.
Issue Details
The Issue opens on 12th Sep 2012 & closes on 24th September 2012. Minimum Application amount is Rs 10000 and in multiples of Rs 1000 thereafter. First cum first served basis.
Size of Issue
The size of this NCD issue is Rs 250 crore with an option to retain another Rs 250 crore , taking total fund raising to Rs 500 crore.
Rating
 "AA-/Stable" by CRISIL and "AA" by CARE  (for an amount of up to Rs 500 crs) indicating the high rate of safety.
Listing
To be listed on NSE & BSE.  Issued and traded only in DMAT Form.
Allocation Ratio
80% issue reserved for resident individuals / HUF – split equally between application upto Rs 5 lakhs, and application above Rs 5 lakhs
10% of Issue reserved for institutions
10% issue for non-institution category
 Comparison to previous issues
See the yield for the last year NCD issue of Shriram City Union finance
Most traded Issue N3 (originally for 5 years is now available) at yield of 12.04% . So the current issue return of 11.75% seems to be OK as if you buy in secondary market, you will have to pay brokerage of 0.50-0.75%.
 Summary
11.75% return on 5 year secured NCD seems attractive for retail investors.  You can consider investing in this if you can take on moderate risk, but don't over allocate as there will be other issues to choose from. The interest rate is definitely attractive and beats returns from bank as well as company fixed deposits.
Some other NBFC are also likely to announce public issue of secured NCD in September. So don't invest all money in one company.