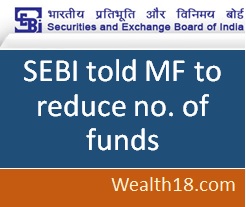 SEBI has told mutual funds to reduce the number of funds under management and stick to only one fund per category in an attempt to end the complexities of mutual fund investing. 
As per industry tracker, there are 1600+ debt funds and a total of 2500+ fund schemes which is more than number of actively traded listed stocks on stock exchanges.
This is confusing customers and making it impossible to gauge a fund's suitability. Most often the difference between funds are minimal to make any significant difference. The mutual fund industry actually trying to play on the psychology of investors with new scheme as investors wrongly believe that buying a unit at Rs 10 is beneficial compared to an existing fund whose net asset value could be higher.
The regulator wants every fund to have one scheme under each category. This could include liquid, liquid plus, ultra short term, short term, income, gilt, monthly income plan, and credit fund for investors in fixed income plans. For equity, the definition should be large cap, mid cap, micro cap, ELSS, balance fund, arbitrage fund, concentrated fund.
The number of schemes under the debt category has to be brought down to 8 and 7 for equities.
Current the number of schemes in top 3 fund houses is as follows:
ICICI Prudential tops the list with 375+ schemes,

Reliance MF at 245+ schemes.

HDFC Mutual Fund 215+ schemes.