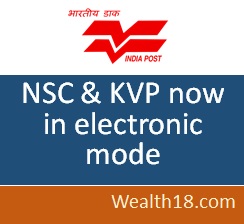 National Savings Certificate and Kisan Vikas Patra will now be issued in electronic mode (e-mode). Government has decided to discontinue the system of physical pre-printed paper certificates w.e.f 1-April-2016. 
However, till the Core Banking System transits to that e-mode, banks and post offices may choose to issue a physical certificate recorded on a passbook, it added.
NSC and KVP are popular small saving schemes, specifically designed for government employees, businessmen and other salaried classes who are Income Tax assesses. Investment up to Rs 1.50 lakh per annum qualifies for tax rebate under section 80C of Income Tax Act.