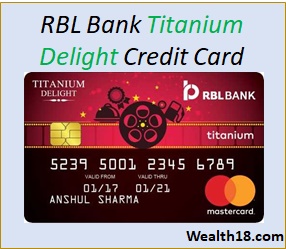 RBL Bank Titanium Delight Credit  Card is one of the  credit card offered by RBL Bank that provides extra reward points as well as spending on Wednesdays.
Features 
2000 reward

points as  joining benefit (value approx Rs 500)

Get 1000 (Rs 250 worth) additional points on spends of Rs. 10,000 within 60 days

Annual Reward – Get 4000 (Rs 1000 worth) additional if you spend Rs 1.20 lakh in a year

Fuel charge waiver

for transaction between Rs 500 – Rs 4000 (Max waiver Rs 100 per month)

1+1 free movie ticket* (upto Rs 200) on BookMyShow once a month on a Wednesday

Irrespective of which RBL card you hold, you can avail special offers being a RBL Card holder. See the offers and discount available to

all RBL Card holders

.
Reward Points Collection
Earn 1 reward points for every Rs.100 on all your purchases except fuel 

20 Reward points for every Rs. 100 spent on groceries on Wednesdays  (5% cashback value)

40 Reward Points for every Rs. 100 spent at Pizza Hut/ Dominoes online on Wednesdays (10% cashback value)

Can get many discount offers applicable for all RBL Credit cards for groceries, travel, hotel, movies, shopping & gifts.
Reward Points Redemption
You can redeem the points against Flights & Hotels, Shopping, Mobile recharges and retail vouchers.  They have a dedicated rewards website –  https://www.rblrewards.com
Points Value / Cashback equivalent based on redemption
1 point = Rs 0.25
Approx. cashback of 0.25% on normal spending 

Approx. cashback of 5 – 10 % on specialised spending as mentioned above.
Additional 0.83% cashback if you hit annual spending of Rs 1.50 lakh 
Fees:   Annual Fees – Rs 750
Next year fee is waived on crossing spends of Rs.1 lacs in the previous year
Summary
This card if good as it gives upto 5-10% cashback on specific spending. You are already getting the reward points equivalent to first year joining fees.
See list of all credit cards offered by RBL Bank and check which one you should go for.