RBI has extended the timeline to get pre-2005 currency notes exchanged at banks.
On Jan 22 2014, RBI said that it would wiothdraw all pre-2005 currency notes from April 1 2014 and advised public to get it exchanged at banks. Now, they have extended this timeline to Jan 1 2015.
What is the timeline to get the notes replaced?
You can get your notes exchanged by Jan 1 2015 . In the meantime, you can freely use the currency as before .  It is still a LEGAL TENDER.
How to identify pre 2005 notes ?
Currency notes issued before 2005 do not have the year of printing on the reverse side. In notes issued after 2005, the year of printing is visible at the bottom of the reverse side.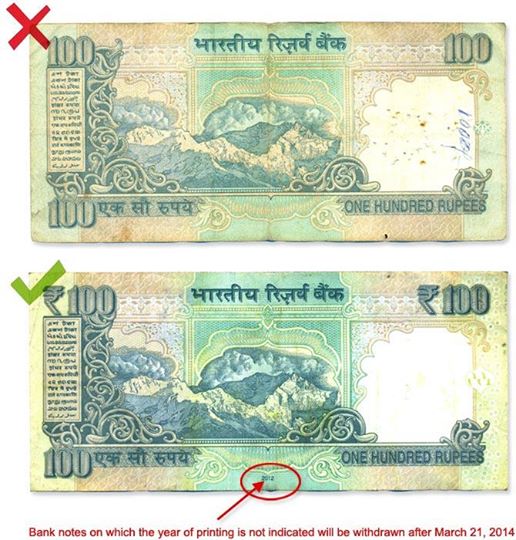 Why RBI is doing this  ?
Post-2005 notes have added security features and help in curbing the menace of fake currency.
The RBI said the withdrawal is in conformity with the standard international practice of not having multiple series of notes in circulation at the same time.
 "A majority of such notes have already been withdrawn through the banks and only a limited number of notes remain with the public" the RBI said.
The move is also expected to unearth black money held in cash.
Where to exchange the notes ?
Banks are required to exchange the notes for their customers as well as for non-customers.
From July 01, 2014, however, to exchange more than 10 pieces of Rs. 500 and Rs. 1000 notes, non-customers will have to furnish proof of identity and residence to the bank branch in which they want to exchange the notes.
As per RBI data, 7,351 crore pieces of currency notes were in circulation on March 31, 2013. Of this, 14.6 per cent were Rs 500 notes and 5.9 per cent were Rs 1,000 notes.