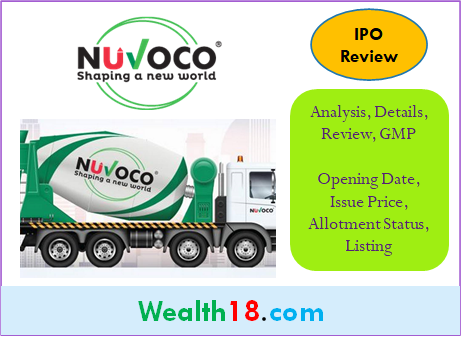 Nuvoco Vistas IPO is opening on 9th Aug 2021.  Nuvoco Vistas Corp. Ltd is a Nirma Group Company. It is the largest cement company in East India, and 5th largest cement player in India.
Issue Details of Nuvoco Vistas

 

IPO:   
| | |
| --- | --- |
| IPO Opens on | 09 Aug 2021 |
| IPO Closes on  | 11 Aug 2021 |
| Issue Price band | Rs 560 – Rs 570 |
| Any Discount | NA |
| Issue Size | Rs 5000 crore |
| Minimum Investment | 26 shares lot (min amount 14820) |
| Max Investment (Retail) | 13 lots / 338 shares (amount Rs 192260) |
| Registrar | Link Intime |
| Book Running Lead Managers | Axis Capital, ICICI Sec, HSBC Sec, SBI Cap, JPMorgan |
| Listing | BSE/NSE |
| Download | Red Herring Prospectus |
Nuvoco Vistas

IPO Grey market Premium :
As per market observers, Nuvoco Vistas

 IPO

 grey market premium (GMP) was at around

₹

37 – 39

9th Aug – GMP – Rs 20
IPO Issue Allocation:
QIB = Not More than 50% of the offer

NII = Not less than 15% of the offer

Retail = Not less than 35% of the offer
Background:
Nuvoco Vistas Corp. Ltd is a Nirma Group Company. Nuvoco Vistas is the 5th largest player in India and the largest cement company in East India, in terms of capacity, with a consolidated capacity of 22.32 MMTPA.  They have 11 cement Plants in India those are in West Bengal, Bihar, Odisha, Chhattisgarh and Jharkhand in East India and Rajasthan and Haryana in North India.  The company started their operations in 1999. They grown the cement business, through acquisition of the Indian cement business of Lafarge Holcim in 2016 and NU Vista (formerly Emami Cement Limited) in 2020
Their business portfolio includes Cement, Ready-Mix Concrete (RMX) & Modern Building Materials (MBM).
Top Shareholdings: 

 Objective of the issue:
The Offer comprises a Fresh Issue by our Company and an Offer for Sale by the Promoter Selling Shareholder.
Offer for Sale : The Promoter Selling Shareholder will be entitled to the proceeds of the Offer for Sale after deducting its proportion of Offer related expenses and relevant taxes thereon. Our Company will not receive any proceeds from the Offer for Sale and the proceeds received from the Offer for Sale will not form part of the Net Proceeds.
Fresh Issue – Requirement of Funds , Our Company proposes to utilise the Net Proceeds towards funding of the following objects:


1. repayment/prepayment/redemption, in full or part, of certain borrowings availed of by our Company; and 2. General corporate purposes.
Anchor Investors:
Nuvoco Vistas has raised 1,500 crore from Anchor investors – HDFC Life Insurance Company, SBI Life Insurance Company, SBI Mutual Fund (MF), Axis MF, Mirae MF, Franklin Templeton MF, Premji Invest and SBI Pension Fund among others were domestic investors that participated in the anchor book. Among the foreign portfolio investors participants were APG AM, CI Funds, TT International, Carmignac, and Wells Capital.
Financials:
The company's financials does not look very robust with very modest income growth. Also making losses in last few years.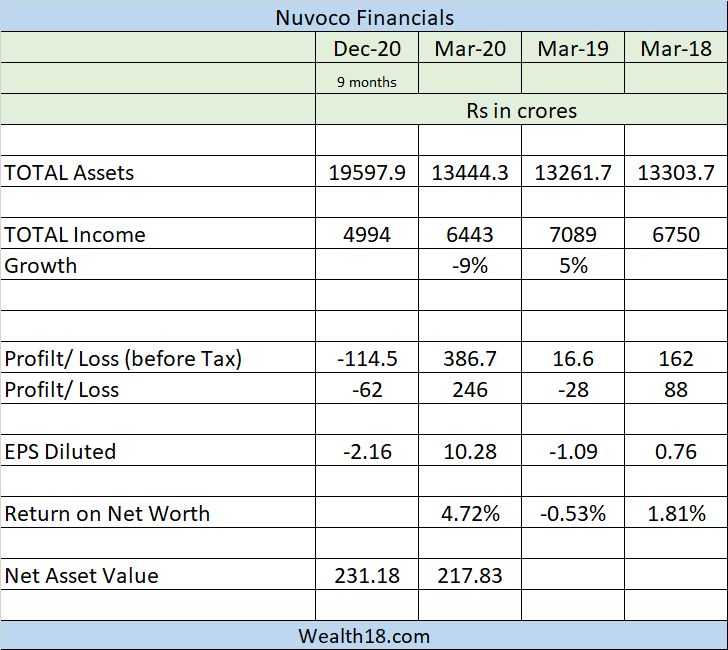 Valuation as compared to its peers: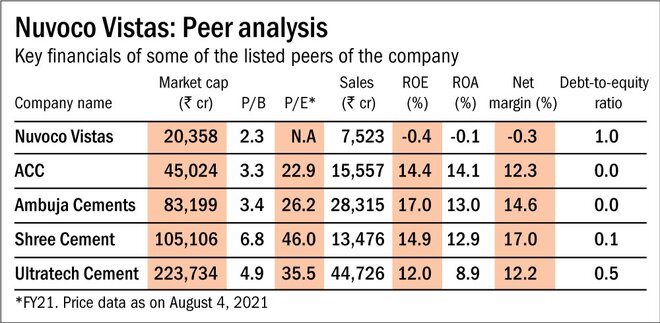 Pros
Favourable geography: The company has a strong presence in East India (with 8 out of 11 plants located in East India). The demand growth in East India is 9-10% as compared to the growth of 3-5 %in the rest of the country. The demand in this region is expected to be above-average growth rates for the next five years.
Strong distribution facility: The company has a large sales and marketing network, comprising more than 16,0000 dealers and 244 clearing and forwarding agents.
Cons
Stretched balance sheet with borrowings of Rs 7130 crore

Reported loss in FY2021 – Rs 26 crore loss

business, financial condition and results of operations have been and may continue to be materially adversely affected by the COVID-19 pandemic.
Brokerage Recommendations: 
| | |
| --- | --- |
|  Brokerage | Recommendations |
| Hem Securities | Subscribe |
| Arihant Capital | Subscribe |
| Motilal Oswal | Subscribe |
| K R Choksey | Subscribe |
| Choice Broking | Subscribe |
Should you invest: 
Given that the financials are not very robust and other good listed players are in the market, I will avoid this IPO. 
Grey market premium for this IPO is onlu 7-10%, which gives some indication of little off-market interest in this IPO.
Some of the recently listed IPOs have given 100-300% returns in 2021. Also check the list of upcoming IPOs in 2021. 
Disclaimer: This is not an investment advice and is only for educational purposes. Please consult your financial advisor before taking any financial decisions. 
---
Important Dates:- IPO Schedule (Tentative)
| | |
| --- | --- |
| Finalization of Basis of Allotment | 17th Aug |
| Initiation of Refunds | 18th Aug |
| Credit of Equity Shares: | 20th Aug |
| Listing Date: | 23rd Aug |
Subscription Details: (Will be Updated)
| (Subscription-Category-Wise (no. of times) Till time : 06:00 PM) | Shares Offered | Day-1 | Day-2 | Day-3 |
| --- | --- | --- | --- | --- |
| QIB | | 0 | 0.11 | 4.23 |
| NII | | 0.02 | 0.04 | 0.66 |
| Retail | | 0.31 | 0.51 | 0.73 |
| Employee | | | | |
| TOTAL | | 0.16 | 0.29 | 1.71 |
How to apply for Nuvoco Vistas IPO through Zerodha
Zerodha customers can apply online in Nuvoco Vistas IPO using UPI as a payment gateway. Zerodha customers can apply in Nuvoco Vistas IPO by login into Zerodha Console (back office) and submitting an IPO application form.
Visit the Zerodha website and login to Console.

Go to Portfolio and click the IPOs link.

Go to the 'Devyani International IPO' row and click the 'Bid' button.

Enter your UPI ID, Quantity, and Price.

'Submit' IPO application form.

Visit the UPI App (net banking or BHIM) to approve the mandate.
Disclaimer:  This article is for educational purposes and should not be treated as investment advice. Please consult with your investment advisor before making any investment decisions.