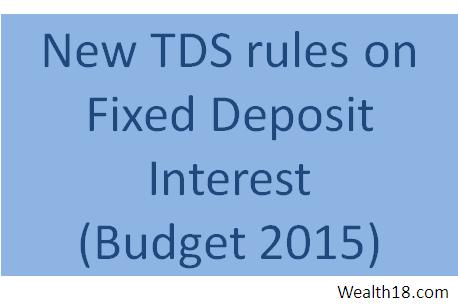 Budget 2015 has made TDS rules on fixed deposit interest more stringent. 
Till now, TDS was deducted by bank or post office when the interest is more than Rs 10000.There was a loophole as the limit of Rs 10000 was calculated with reference each of the branch and not all the branches together. So many taxpayers were using this option to create FD in different branches of same bank, so that the interest per branch doesnot exceed Rs 10000 and thereby no TDS is deducted.
Now, in Budget 2015, this loophole is plugged.  The budget proposes to make this limit for tax deduction applicable in respect of deposits with ALL the branches taken together in case the bank or the Company has core banking solution.
So now you cannot escape the TDS even if you open your bank fixed deposits with different branches of the same bank in case the aggregate of the interest on all the deposits is likely to exceed the threshold limit as above as almost all the banks now have core banking solution.
Cooperative banks – Till now some of the cooperative banks were not deducting tax on interest on fixed deposits from members. The present budget proposes to make the interest credited by the cooperative banks to their members also subject to TDS.
TDS on Recurring Deposit (RD) –  One more change which will affect you all in the TDS space is that presently the interest on recurring deposit (RD) are not subject to TDS. The budget proposes to apply the TDS law to interest on recurring accounts also.