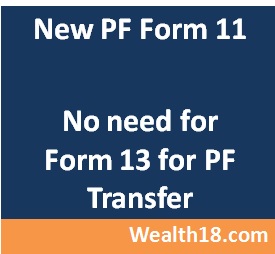 When you change our employer, then you need to submit 2 forms – Form No. 11 (Declaration form) and Form No. 13 (for PF transfer from old EPF account to you new EPF account).
However, EPFO has recently (23-Sep-2016) issued a notification which requires to submit one form only – new EPF Form 11. The new Form 11 is a one page declaration form and a simplified version of the existing Form 11. You do not need to submit Form 13.
As per the notification, the Declaration Form (New Form No. 11) will replace Form No. 13 in all such cases where existing EPF member makes a request for transfer of his fund availing the facility of UAN (Universal Account Number).
So, if you have UAN number allotted and your KYC details are verified by your previous employer, you can just submit new EPF Form 11 to your new employer.
You can access this new EPF Form 11 through UAN member portal. There is no need to submit Form No. 13.
Download new EPF FORM 11 –   epfos-new-form-no-11-declaration-form
[xyz-ihs snippet="ad1″]