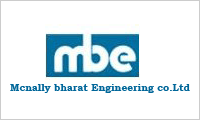 Shares of McNally Bharat Engineering climbed 15 % intraday on Wednesday after the engineering company allotted shares worth Rs 25 crore to Rekha Jhunjhunwala.
 The company has allotted 25 lakh equity shares to Rekha Rakesh Jhunjhunwala, the wife of ace investor Rakesh Jhunjhunwala, at Rs 100 a piece on a preferential basis.
Allotment price was at a 10 percent premium to Tuesday's closing price.
The Kolkata-based turnkey solutions provider also allotted 20 lakh shares to promoter Williamson Magor & Company at same price. Promoter currently held 10.23 percent stake in the company as of December 2014 while other promoters have 22.08 percent stake. At 10:42 hours IST, McNally Bharat Engineering was quoting at Rs 100.60, up Rs 9.50, or 10.43 percent.