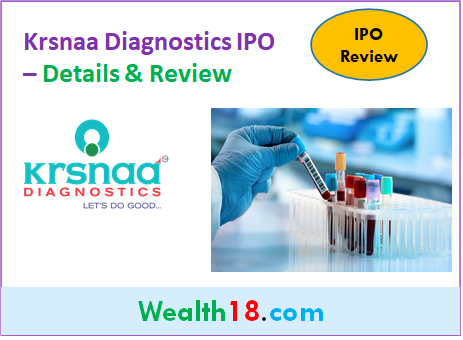 Krsnaa Diagnostics IPO is opening on 4th Aug 2021. The diagnostic firm operated over 1,800 diagnostic centres across 13 states as of December 31, 2020. 
Krsnaa Diagnostics provides a range of technology-enabled diagnostic services such as imaging (including radiology), pathology/clinical laboratory and tele-radiology services to public and private hospitals, medical colleges and community health centres pan-India.
Issue Details of Krsnaa Diagnostics

 

IPO:   
| | |
| --- | --- |
| IPO Opens on | 04 Aug 2021 |
| IPO Closes on  | 06 Aug 2021 |
| Issue Price band | Rs 933 – Rs 954 |
| Any Discount | NA |
| Issue Size | Rs 1213 crore |
| Minimum Investment | 15 shares lot (min amount 14310) |
| Max Investment (Retail) | 13 lots / 195 shares (amount Rs 186030) |
| Registrar | KFin Technologies |
| Book Running Lead Managers | JM FInancial, IIFL Sec, Equirius, DAM CApital |
| Listing | BSE/NSE |
| Download | Red Herring Prospectus |
Krsnaa Diagnostics IPO Grey market Premium :
As per market observers, Krsnaa Diagnostics grey market premium (GMP) was at around

₹

410
IPO Issue Allocation:
QIB = Not More than 75% of the offer

NII = Not less than 15% of the offer

Retail = Not less than 10% of the offer

Employee – shares worth Rs 20 crore for employees, who will a discount of Rs 93 per share
Background:
Krsnaa Diagnostics competitors include diagnostic healthcare service providers in India, hospital-based diagnostic centres, independent clinical laboratories, other smaller-scale providers of diagnostic services (such as pathology, radiology laboratories and preventive care providers as well as international service providers which may establish and expand their operations in future.
The company experienced heavy demand for PCR testing as a result of the COVID-19 pandemic, which has had a positive impact on its overall testing volume, the duration and level of the demand for, and reimbursement for, COVID-19 molecular testing was uncertain.
The diagnostic firm operated over 1,800 diagnostic centres across 13 states as of December 31, 2020. It also operates a teleradiology reporting hub in Pune. Each of its diagnostic centres and particularly the teleradiology reporting hub is critical to its operations.
The company also operates one of India's largest teleradiology reporting hubs in Pune that is able to process large volumes of X-rays, CT scans and MRI scans round the clock and 365 days a year. Since inception, it has served more than 2.3 crore patients.
As of June 2021, the company has deployed 1,797 diagnostic centres pursuant to public private partnership (PPP) agreements with public health agencies. In addition to the PPP segment, it has expanded from operating 20 diagnostic centres as of March 2021 to 26 such diagnostic centres as of June 2021.
Top Shareholdings: 
 Objective of the issue:
The public issue comprises a fresh issue of shares worth Rs 400 crore and an offer for sale (OFS) of up to 85.25 lakh equity shares by existing selling shareholders.
The offer for sale consists of sale of
16 lakh equity shares by PHI Capital Trust-PHI Capital Growth Fund-I;

33,40,713 equity shares by Kitara PIIN 1104;

35,63,427 equity shares by Somerset Indus Healthcare Fund I; and

21,380 equity shares by Lotus Management Solutions (acting through Mayur Sirdesai).
The company has planned to utilise the net proceeds towards funding the finance the cost of establishing diagnostics centres at Punjab, Karnataka, Himachal Pradesh and Maharashtra worth Rs 150.8 crore, repayment/pre-payment, in full or part, of borrowings from banks and other lenders availed by the company worth Rs 146.08 crore, and for general corporate purposes.
Anchor Investors:
Krsnaa Diagnostics has raised Rs 537 crore from host of anchor investors. The company has decided to allocate 56,28,937 equity shares to 44 anchor investors at Rs 954 apiece, aggregating the transaction size to Rs 537 crore, according to a circular uploaded on BSE website late on Tuesday

Avendus, HSBC Global, Nomura, HDFC Life Insurance Company, Max Life Insurance Company, Reliance General Insurance Company, Elara India Opportunities Fund, Tata Mutual Fund (MF), ICICI Prudential MF, SBI MF and Kotak MF are among the anchor investors.

Financials:

Note: The Income number in 2021 excludes the gain on fair value movement of compulsory convertible preference share. But the P&L figure that related impact is still shown. Hence the P&L number for 2021 is not comparable for previous years.
Valuation as compared to its peers: 

The company made losses in previous years (FY19, FY20). Even in FY201 (excluding extra ordinary gain), they are still loss making and hence difficult to arrive at PE Ratio.
On EV/EBIDTA basis, it is valued at 30.4x of FY21 EBIDTA which looks attractive as compared to Dr Lal Pathlabs and Metropolis.
Brokerage Recommendations: 
| | |
| --- | --- |
|  Brokerage | Recommendations |
| Reliance Securities | Subscribe (for long term) |
| Anand Rathi | Subscribe |
Should you invest: 
One of the fastest growing diagnostic chains with stable revenue growth

But making losses over past 3 years (after excluding extra-ordinary gains).  However,

On EV/EBIDTA basis, it is valued at 30.4x of FY21 EBIDTA which looks attractive as compared to Dr Lal Pathlabs and Metropolis.

Despite

challenges

 with bottom line,

With current euphoria in stock market and IPO listings, many investors will still be applying for listing gains (as the grey market premium is approx Rs 400)
Some of the recently listed IPOs have given 100-300% returns in 2021. Also check the list of upcoming IPOs in 2021. 
---
Important Dates:- IPO Schedule (Tentative)
| | |
| --- | --- |
| Finalization of Basis of Allotment | |
| Initiation of Refunds | |
| Credit of Equity Shares: | 11th Aug 2021 |
| Listing Date: | 17th Aug 2021 |
Subscription Details: (Will be Updated)
| (Subscription-Category-Wise (no. of times) Till time : 06:00 PM) | Shares Offered | Day-1 | Day-2 | Day-3 |
| --- | --- | --- | --- | --- |
| QIB | | | | 49.8 |
| NII | | | | 116.3 |
| Retail | | | | 41.9 |
| Employee | | | | 0.98 |
| TOTAL | | | | 64.4 |
How to apply for Krsnaa Diagnostics IPO through Zerodha
Zerodha customers can apply online in Krsnaa Diagnostics IPO using UPI as a payment gateway. Zerodha customers can apply in Krsnaa Diagnostics IPO by login into Zerodha Console (back office) and submitting an IPO application form.
Visit the Zerodha website and login to Console.

Go to Portfolio and click the IPOs link.

Go to the 'Devyani International IPO' row and click the 'Bid' button.

Enter your UPI ID, Quantity, and Price.

'Submit' IPO application form.

Visit the UPI App (net banking or BHIM) to approve the mandate.
Disclaimer:  This article is for educational purposes and should not be treated as investment advice. Please consult with your investment advisor before making any investment decisions.