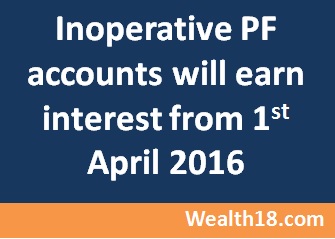 From April 1 2016,  EPFO has again decided to give benefit of accrual of interest on the inoperative PF accounts. The board has reversed the decision taken in 2011.
This will benefit a large section of the estimated nine crore inoperative accounts of subscribers switching jobs. EPFO has estimated that over Rs 30,000 crore is stuck in these inoperative accounts.
Inoperative EPF accounts are those where there has been no contribution from either the employee or the employer for 36 months.
The decision not to give interest on these accounts was taken in 2011 to persuade employees to withdraw their money or merge it with active accounts.
However, it is not clear whether the members will get the interest from 2011 to 2016 or not?