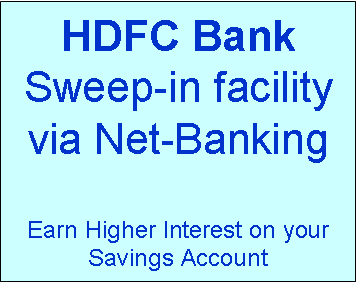 In my other post,I explained How you can earn upto 9% on your savings bank account using Auto sweep / sweep-in facility (Read Full Post).

In this post, I have provided step-by-step guide to use the sweep-in facility in your HDFC Bank Account via NetBanking.
HDFC Bank provides this facility to all its customers who have NetBanking facility. (holding pattern should be SINGLE & not Joint).
I have savings account with HDFC bank and it is very simple to use this facility.
Step 1:  Go to "Fixed Deposit" Section – Open Fixed deposit
Enter – Nature of Deposit – Reinvestment of Interest
Step 2:  Activate Sweep-in on this FD
Once the FD is made online, then go to Option – "Fixed Deposit Sweep-in" and enable the Sweep-in on that FD. It will allow sweep-in the amount from this FD to Saving account when the money is withdrawn from that saving account.
and that's it. 
The only drawback of this method is that you need to open the FD yourself through netbanking (as per Step 1) and not done automatically. If you want to use the "Auto Sweep" facility, where FD is opened automatically above threshold limit, then you need to open HDFC SavingsMax Account.
Feel free to comment or ask or share your experience regarding using sweep-in facility.