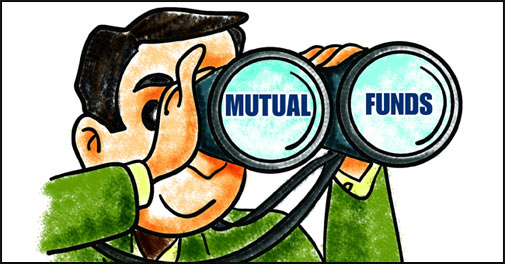 Mutual funds are one of the best options for Retail investors to invest their money in different asset classes. It gives benefit of professional management of your money, offers liquidity, allow diversification and tax benefits.
A.   Quick overview of process to Invest in Mutual funds
1) Submit KYC Form – KYC is must for the first time investors and need to be done ONLY ONCE and valid for all Mutual fund houses.
You need to submit KYC form along with the Proof of ID & Address. You can submit it to your nearest distributor, MF branches, authorised banks, CAMS / Karvy offices etc
You can download the KYC application form here.  
Read – New Central KYC process must for new Mutual Fund Investors (Feb 2017).
2) Select a Mutual Fund & Scheme – Depending on your time horizon, goal & risk appetite, select mutual fund scheme for investment (Equity, Debt, Balanced, Gold etc).   Some of the best performing funds are provided in this post.
Select Investment option – Growth, Dividend, Dividend re-investment. If you do not need regular money & investing for long term, select growth option.
3) Submit MF application & SIP Form – Once the KYC is approved (within 5-7 days), you can submit the Mutual Fund Application form alongwith the cheque for the investment amount.
If you want to make monthly systematic investment, you can submit the SIP mandate form, so that specified amount is debited directly from your bank account & get invested in selected mutual fund scheme.
B.   Different ways to Invest in Mutual Funds
You can invest in Mutual funds either through agents or directly with mutual fund companies. Also there are options for offline as well as online transactions.
Following are the different ways to invest in Mutual Funds:
Through Agents
Offline
through Mutual Fund Agents

through Banks (distributors)

through Corporate agents
Online
through share broking portal (e.g ICICIDirect)

through online MF Agents ( FundsIndia, FundsSupermart etc)

through Banks (e.g HDFC ISA Account)
DIRECT

through Mutual Fund Branch

through Investor Service Centre (Karvy / CAMS office)

through Mutual fund online website
You can increase your returns by option for DIRECT PLAN of Mutual Funds. Read my post on Direct Plan
Summary
If you are first time investor and investing small amount, I suggest you go through an agent / advisor who will help you with formalities and basic guidance.
Some best performing funds are listed in this post. Stick to them initially even if the advisor suggests something else.
Once you gain some experience of investing in Mutual Fund, you may consider investing directly with Mutual Fund company to earn a bit extra.
Feedback / Comments: Please share your experience of investing in Mutual Fund. Which route have you chosen? Any feedback / queries, please use comments box below.