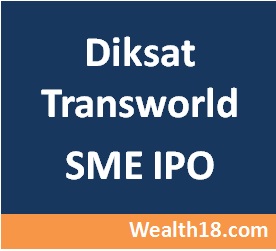 Diksat Transworld has announced its IPO has opened on 29-Sep. 
Issue Details of Diksat Transworld  IPO:  
IPO Open :  29th Sep to 6th Oct 2016

Issue Price band: Rs 36 – 40 per share

Issue Size: Rs 18.43 crore  ( XX Shares)

Minimum Bid – 3000 shares

Maximum Bid – 3000 shares

Minimum Investment:  Rs 120000 (Upper band)

Book Running Lead Managers :  Aryaman Financial Services

Registrar –

Listing: The shares will be listed on SME platform of BSE.
Background:
Diksat Transworld Limited is engaged in the business of Media and Entertainment through the mediums of Television, Newspapers and Movies. Headquartered in Southern India they are established television broadcaster and newspaper circulation in India. The company owns and operates four satellite channels, including
Win TV (Tamil),

Win TV (U.P.),

Cuisine TV, and

Aaseervatham TV; and

circulates a daily newspaper named Tamil News.
The company is also involved in the production of movies under GR8 Talkies name. They have recently released their first Tamil movie named Gugan. Its customers include program producers, advertising agencies, and newspaper agents/subscriptions. They maintains a content library, which has a collection of various movies, programs and music, primarily in Tamil language.
The company has set-up its distribution network for Win TV such that it is available locally, nationally and internationally. For this, the company has entered into an agreement with Tata Communications Limited for satellite up-link and also it has entered into an agreement with Reliance Big TV Limited for downlink and broadcast of its channel on its DTH platform.
Promoters holdings:
Objective of the issue: The company will not receive any proceeds from the Offer.
achieve the benefits of listing the Equity Shares on the BSE SME Platform of BSE Ltd;

carry out the sale of Upto 46,08,000 Equity Shares by the Selling Shareholders;

enhance their brand name and provide liquidity to the existing shareholders;

provide a public market for the Equity Shares in India.
Financials:
Revenue (2016) is Rs 91.38 crores as compared to 2015 revenues of Rs 85.35 crores (up 7%) on the back of increase in revenue from programming, advertising and licensing fees earned during the year.

Net Profit (2016) is Rs 2.27 crores as compared to 2015 revenues of Rs 2.61 crores (down 13%)

 Balance sheet looked more attractive in 2016 as its quick ratio improved significantly to 4.09x in FY16 as compared to 2.60x in FY15 and 3.11x in FY14, indicating the company's liquid assets increasing to cover its short-term debt obligations.

Weighted Average EPS for last 3 years is just Rs 0.12 , which calculates to a PE Ratio of 333 , which is very high. Seems the valuation is quite high.
You can see more details in the IPO Prospectus – https://www.bseindia.com/downloads/ipo/2016621163517DRHP_DIKSAT.pdf
Plus Points
The company currently possess a unique balance sheet situation with zero debt (excluding vehicle loans). This gives it immense opportunities to raise further capital, in terms of equity and debt.

The company is proposing to re-launch Cuisine TV as National News Channel in Hindi language and the same is under planning stage. The revamping of these channels with a modern outlook will enable it in its long term pursuit of expansion into other demographic regions with further diversified program content.
Risks:
In the last 3 years, 100% of the company's total revenues from advertising, channels and newspapers were derived from customers located in the geographical area of South India.

The company's entire operations are based out of offices and studios located in the city of Chennai.

The company competes for revenues, viewers and programming primarily with other private television networks and Doordarshan (the government owned broadcaster). Some of its competitors such as Sun TV, Jaya TV, Star Group Limited, Zee TV Limited, etc., are national or international companies that have substantially greater resources (including financial, programming and other types of resources) than it does and may have stronger relationships with large advertising customers.
Should you invest: 
As the company revenue & profits are flat over last few years, the issue is not so attractive.
Disclaimer:  The articles or analysis on this website should not be constituted as Investment advice. Please consult your financial advisor before making any investments.
[xyz-ihs snippet="ad1″]