RBI has implemented the new Cheque Truncating system (CTS) and from 1st January 2013, only the new CTS complaint cheques will be honored.
Update: The timeline has been extended mnay times from 31-Mar-2013 to 31-Jul-2013 to 31-Dec-2013
Received the following SMS from bank,
"Dear Customer, please deposit CTS compliant cheques(i.e cheques with CTS India watermark) for your credit card repayments from 31 December, 2013 to avoid delayed clearance and late payment fees. Non CTS compliant cheques ( cheques not compliant to the cheque truncation system(CTS) 2010 standards) will be cleared thrice a week only, until 30 April, 2014."
So, the validity of Non CTS cheques is again extended, this time upto 30th April 2014. If you haven't switched to CTS cheques, you have 4 more months.
A. Why this new CTS is being implemented ?
This will eliminate physical movement of cheques for clearing. Instead, only their electronic images, along with key information, will be captured and transmitted. It will make the clearing process more efficient, secure and quicker.
B. Timeline
You must switch to new cheques with prescribed standard features before December 31 2012. However, as per authorities, some transitory period, from January 1 to March 31, could be given during which both types of cheques will be accepted.
C. What is the new format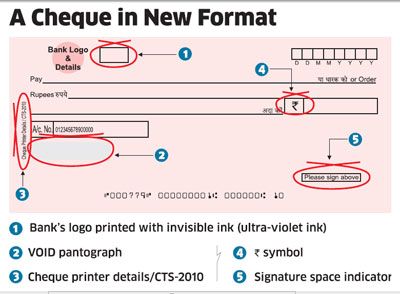 D. What I need to do ?
1. Check your Cheque Book :  Just check, whether your existing cheque book is CTS-compliant or you need to get a new CTS-complaint cheque book issued before 31st December 2012. If you have ordered your cheque books recently, say, a month ago, you may already have the new cheque leaves with you.
However, if you have received the cheque book more than three months ago, you may need to check. For e.g , the new cheque format will have the new rupee symbol near the numerical 'amount' field.
2. Ask your bank to replace Old Cheques:  If you haven't received the new form of cheque books , ask your bank to replace the old cheques and issue new cheque book. OR you can just order a NEW Chequebook and cancel the old  cheques.
3. Encash any old cheques now :  If you have any cheque that does not conform to CTS 2010 and pending encashment, you should not delay its encashment. As per RBI mandate, the same (old format cheques) are to be accepted till December 31, 2012.
4. Issue New Post dated Cheques for EMI / Rent etc. : If you have issued post-dated cheques (PDCs) for your home or auto loan EMIs, you will have to issue fresh cheques. Don't worry, Banks will contact you to replace the old cheques with new ones.
Also, if you are a Landlord and taken advance Rent cheques from tenant, you need to get them replaced as well.
E. Changes in Cheque not permitted :  You need to be careful while writing the new cheques. For e.g, cheques with alterations in important fields like payee's name and amount in figures or words will not be processed under the new system. Even if you have signed & authenticated the change, such altered cheques will be rejected. You need to issue a new cheque if you need to make any correction.
So, Check your Cheque Book now and ensure that you have correct cheques before the New Year.