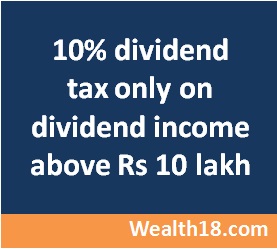 The new 10% Dividend Tax will be payable only on dividend income over and above Rs 10 lakh threshold in a year, according to an amendment to the Finance Bill 2016 approved by Lok Sabha.
It is clarified that tax shall be chargeable on dividend income only to the extent it is in excess of Rs 10 lakh in aggregate as received from a domestic company or companies.
This essentially means, tax payers whose dividend income crosses Rs 10 lakh would now have to pay an additional dividend tax on the excess income besides the dividend distribution tax being paid by the company/companies declaring such dividends.
This amendment will be effective for the assessment year 2017-18 and subsequent assessment years.