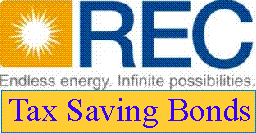 In this week, there is wave of second tranche of Tax free bonds. PFC, HUDCO, REC, IRFC are launching second round (tranche) of tax free bonds,
REC – Rural Electrification Corporation is targeting to raise up to Rs 2582 crore through the second tranche of its public issue of tax-free bonds.
The first tranche was closed in Dec 2012. The second tranche would open from Feb 25 and close on March 15 2012.
The issue size is Rs 100 crore with an option to retain oversubscription up to Rs 2,482 crore.
About the Company
REC is a Navratna Central Public Sector Enterprise under Ministry of Power. Company's main objective is to finance and promote rural electrification projects all over the country. It provides financial assistance to state Electricity Boards, State Government Departments and Rural electrification projects as are sponsored by them.
REC will use the proceeds for lending to the power sector and augumenting our resource base. It will, however, not be for any specific project.
Important Dates
Issue Opens on  25-Feb-2013

Issue Closes on 15-Mar-2013
Intetest Rates
The tradable tax-free secured redeemable non-convertible bonds of Rs 1,000 each in two series,
For Retail investors:
Series I – 10 years – coupon rate of 7.38 % (Pre tax yield upto 10.68%)
Series II – 15 years – coupon rate of 7.54 % (Pre tax yield upto 10.91%)

Qualified institutional buyers (QIBs), high networth individuals (HNIs) and corporates will get 0.50% lesser than above rates.
The interest earned will be exempt from tax under section 10 (15)(iv)(h) of the Income Tax Act, 1961.
Other Important Points
Investors can choose to apply in demat as well as physical form.

NRIs and foreign nationals among others are not eligible to invest in this issue

The allotment will be made on a "first-come-first-served" basis.
Tax Benefits
Interest from these Bonds shall not be included in total income of any person as per provisions of Section 10 (15) (iv) (h) of Income Tax Act, 1961.

Since the interest income on these Bonds is exempt from tax, no Tax Deduction at Source is required. 

Wealth Tax is not levied on investment in bonds under section 2(ea) of the Wealth-tax Act, 1957

The Bonds being listed with BSE & NSE shall be treated as a long term capital asset if they are held for more than 12 months and therefore  capital gains arising on the transfer of Bonds shall be subject to tax at the rate of 20% of capital gains calculated after reducing indexed cost of acquisition or 10% of capital gains without indexation of the cost of acquisition.
The issue is AAA rated by CRISIL,  ICRA and Care
A K Capital Services, Enam Securities Pvt Ltd, ICICI Securities, Kotak Mahindra Capital Company and SBI Capital Markets are the lead managers to the issue.
Why invest:
Since interest rates are expected to go down, subsequent tax-free bond issues could be at lower rates.
Why not to invest:
The Interest rate offered is same as PFC but Lower than HUDCO. Check HUDCO Tax free Bonds details.

If you sell bonds in the secondary market, subsequent investors will get interest rates which are lower by 50 basis points. So the liquidity could be low.
Potential Future Issues of Tax free Bonds
National Highways Authority of India, Housing and Urban Development Corp, National Housing Bank, Indian Railways Finance Corp, IIFCL, Ennore Port, Jawaharlal Nehru Port and Dredging Corporation are among companies permitted by the government to sell tax-free bonds.
Download the Form
You can download the Form from REC Website.
Taxation Aspects of Tax FREE Bonds
Read my Post –  Taxation Aspects of Tax free Bonds?
Merits & Demerits of Tax free Bonds
Read –  Tax free Bonds – Should you invest in these?
Allotment Status of this Tax free Bond
Youc an check the Allotment status of this Tax free Bond application at link below by entering application number / PAN number:
https://mis.karvycomputershare.com/ipo/
First Tranche of REC Bonds – Issue closed in Dec 2012
Finally, the first tax free Bond for year 2012-2013 is here. Rural Electrification Corporation (REC) has launched the tax free bonds for 2012-2013 with The plans to raise Rs. 1,000 crore in this issue with an option to retain upto Rs. 4,500 crore.