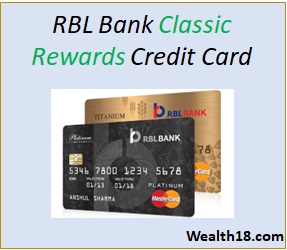 RBL Bank Classic Reward Card is one of the basic credit card offered by RBL Bank.
Features and Reward Points Collection
Earn 4 reward points for every Rs.100 spent in India 

Earn 8 reward points for every Rs.100 spent Internationally

Get up to 5 add-on cards for your relatives. Add-On card can be applied for your spouse, parents or children (above 18 years of age)

Can get many discount offers applicable for all RBL Credit cards for groceries, travel, hotel, movies, shopping & gifts.
Irrespective of which RBL card you hold, you can avail special offers being a RBL Card holder. See the offers and discount available to

all RBL Card holders

.
Reward Points Redemption
You can redeem the points against Flights & Hotels, Shopping, Mobile recharges and retail vouchers.  They have a dedicated rewards website –  https://www.rblrewards.com
Points Value / Cashback equivalent based on redemption
1 point = Rs 0.25
Approx. cashback of 1% on domestic spending and 2% on international spending
Fees:   Looks like this card is free as no fees is mentioned on RBL's website
Summary
Looks like a basic credit card with basic features worth 1% – 2% worth of rewards value. 
See list of all credit cards offered by RBL Bank and check which one you should go for.