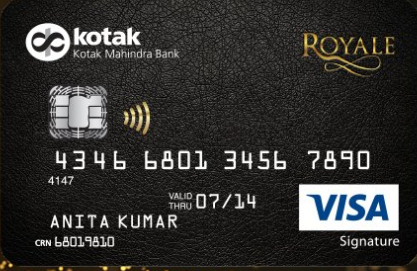 Kotak Bank – Royale Signature credit card offers additional additional reward points for special category spend, bonus points on reaching milestone and lounge access.
Kotak Royale Signature Credit Card Benefits
Joining Benefits : Apply and get 2 BookMyShow vouchers on your 1st swipe (T&C)
Benefits

Additional reward points for special categories
Milestone Benefits: Yes, See details below

Lounge Access (Domestic):

Complimentary access to Airport Lounges in India and enjoy benefits such as gourmet meal, comfortable seating, widescreen TVs, newspaper and magazines, free Wi-Fi.
Maximum limit of 2 free accesses for Kotak Signature cardholders (per quarter) is applicable
25 lounges across India – see list

Movie Tickets:  NA

Restaurant Offers:  N/A

Railway Surcharge waiver: Yes

Save railway surcharge waiver for transactions on www.irctc.co.in and for transactions on Indian Railways Booking Counters. Maximum railway surcharge waiver allowed in a calendar year is Rs. 500/-

Fuel:  Yes

Applicable on transactions between Rs. 500 and Rs. 3000.
Maximum fuel surcharge waiver allowed in a calendar year is Rs. 3500.
Rewards Collection
Earn up to 4X reward points on every Rs. 150 spent across all spends done on your Kotak Royale Signature Credit Card.
4X points on special Categories are Hotels |Restaurants |Travel Agencies & Tour Operators | Package Tour Operators | Airlines and Air Carriers | International Spends
Other Categories: 2X
In addition to the reward points which you will earn on every transaction, you will also be eligible for bonus reward points on achieving the below spends criteria, in an anniversary year.

Spend Rs 4 lakh – 10000 bonus reward points
Spend Rs 8 lakh – 30000 bonus reward points
Customer will be eligible for Bonus Reward Points basis only one of the Milestones at the end of the term. If someone has achieved spends of Rs. 8 Lakhs, he will be entitled to only 30,000 reward points.
Rewards Redemption
Pay with Reward Points:

Pay without cash. Pay without card
Now with your Kotak credit card reward points are converted into currency at merchant outlets when you shop with your Kotak Credit Card. Know more

Redemption options:

Cash | Airline tickets | Air Miles | Movie Tickets | Mobile Recharge | Branded Merchandise
Visit www.kotak.com
Click on Net Banking
Login using your CRN, Password & Dynamic Access Code
Choose Credit Cards
Select Reward Redemption option of your choice.
Please note: For redemption against Airline tickets / Merchandise / Mobile recharge, Reward points have to be converted to Easy Points. 2 Reward Point = 1 Easy Point.

Assuming you spend Rs 8 lakh in a year on special categories, you will earn 51400 points (21400 + 30000). This will have a Easypoint value of Rs 25720. To reward worth approx 3.2%
Kotak Royale Signature Credit Card Fees
Joining fees: Rs 0 – Rs 1499

Annual Fee: Rs 999  

Annual fees waived on annual spend of Rs 1 lakh.
How to Apply – You can apply online at Kotak Bank website 
Primary Credit Card holder should be in the age bracket of 21 years to 65 years. Add-on Card holder should be 18 years and above
Location – Ahmedabad, Bangalore, Chandigarh, Chennai, Delhi (including Gurgaon and Noida), Hyderabad, Kolkata, Mumbai and Pune
Income – Rs. 24 Lakhs and above per annum
Should be a resident of India
This card is beneficial if you spend more on travelling (airlines, hotels, international) and around Rs 4-8 lakh annually on credit card (as you will get additional bonus points).  The reward value is upto 3.2% (most likely it will be less depending on your spending pattern)