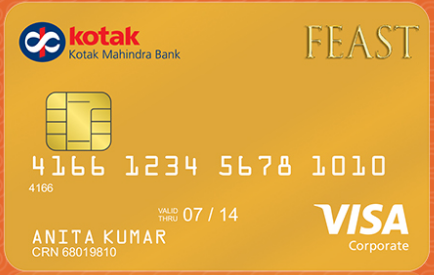 Kotak Bank – Feast Gold credit card offers additional reward points on Dining.
Kotak Feast Gold Credit Card Benefits
Joining Benefits :  N/A

Benefits

Earn 10 Dining Points – On a total purchases including Dining & Movies spends of 5000/- or more within the billing cycle you will Earn 10 DINING POINTS for every 100/- spent on Dining (stand-alone outlets ) and Movies.

1 Dining point = Re. 1

Dining points is given on the first 5 Dining & Movie transactions, up to a maximum of 600/-dining points. Dining & Movie Transactions up to Rs. 4000 are eligible for dining points

10 Dining Points is offered to the customers on Restaurants & Entertainment MCC (Merchant Category Codes) as defined by VISA. This would also include Bars, Pubs & anything, coffee shops & pizza outlets or anything else classified under Restaurants MCC. Entertainment would include Movie and Play theatres. dinning points is specifically not offered on Hotel MCC as specified by VISA. Restaurants within Malls & Department store are mapped as malls; hence no Dining Points will be earned on them. Hotels are strictly barred from any dinning points. For e.g. If a customer eats at TAJ or ITC Grand Maratha they will not receive dinning points.If you book the tickets from a 3 party website e.g. Book My Show, you will not be earning any dinning points if they are not mapped under Entertainment MCC. However if you book on the website of a particular multiplex etc www.pvrcinemas.com, you will be entitled for 10 Dining Points.
Lounge Access (Domestic): No Benefit on this card

Movie Tickets:  N/A

Restaurant Offers:  Earn 10 dining points

Railway Surcharge waiver:  N/A

Fuel:  N/A
Rewards Collection
Earn 10 Dining points on every Rs 100 spend on dining and movies.e
Rewards Redemption
1 Dining point = Rs 1

Reward points can be used for a host of redemption options like Airtickets, Airmiles, Movie Tickets, Mobile Recharge / Branded Merchandise

1 Reward point = 2 EasyPoints
Kotak Solaris Platinum Credit Card Fees
Joining fees: Rs 0

Annual Fee: Rs 499 
How to Apply – You can apply online at Kotak Bank website 
Primary Credit Card holder should be in the age bracket of 21 to 65 years. Add-on Card holder should be 18 years and above

Location – Ahmedabad, Bangalore, Chennai, Delhi (including Gurgaon and Noida), Hyderabad, Kolkata, Mumbai, Navi Mumbai and Pune

Income – 3 Lakhs and above per annum
This credit card is beneficial only for dining and movies (10% discount) and it require a low total monthly spend of Rs 5000 (all purchases). You can consider having this card as additional card. This 10% worth of points are in addition to any other offer / discount that you get directly using your Kotak card.