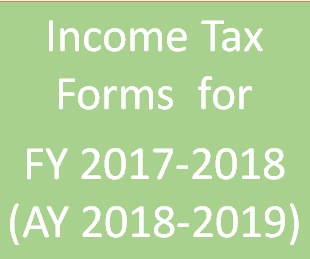 The Income Tax Department has released the  ITR (Income Tax Return) Forms for Financial Year 2017-2018 (i.e. Assessment Year 2018-2019).
These ITR forms will be applicable for income tax returns for income earned from 1st April 2017 to 31st March 2018 i.e. FY 2017-18 (AY 2018-19).  The due date of submission of these ITR Forms will be 31st July 2018.
Key Points regarding IT Forms:
ITR 1 is just ONE Page,

Mandatory to quote Aadhaar number,  mandatory to disclose bank deposits of more than Rs 2 lakh post demonetisation.

ITR 2 and ITR 3 have a Schedule AL requiring assessees to declare their assets and liabilities at the end of the fiscal.

The existing ITR Forms ITR-2, ITR-2A and ITR-3 have been rationalised and a single ITR-2 has been notified in place of these three forms,

ITR-4 and ITR-4S (Sugam) have been renumbered as ITR-3 and ITR-4 (Sugam) respectively
ITR 1 – SAHAJ  –   For individuals being a resident other than not ordinarily resident having Income from Salaries, one house property, other sources (Interest etc.) and having total income upto Rs.50 lakh –  ITR1_form
ITR 2 – For Individuals and HUFs not having income from profits and gains of business or profession (need to fill this form if you have Capital Gains) – ITR2
ITR 3 – For individuals and HUFs having income from profits and gains of business or profession – ITR3
ITR 4  Sugam –  For presumptive income from Business & Profession – ITR4_english
ITR 5 – For persons other than:-  (i) Individual, (ii) HUF, (iii) Company and  (iv) Person filing Form ITR-7 – ITR5_english
ITR 6 – For Companies other than companies claiming exemption under section 11 –  ITR6_english
ITR 7 – For persons including companies required to furnish return under sections 139(4A) or 139(4B) or 139(4C) or 139(4D) or 139(4E) or 139(4F) – ITR7_english
Feel free to ask queries to find out which return is relevant to you.