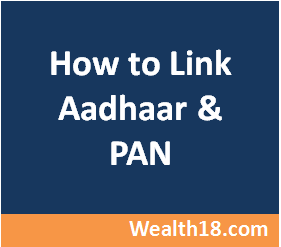 From 1st July 2017,  quoting Aadhaar (Aadhaar number / enrolment ID) has become mandatory for income tax return filing and for applying for Permanent Account Number (PAN).
The central government has notified that the requirement of quoting Aadhaar for income tax returns filing and application for PAN shall not apply to an individual
who is residing in the states of Assam, J&K, and Meghalaya;
a non-resident as per the Income tax Act, 1961;
of the age of 80 years or more at any time during the previous year;
not a citizen of India.
All persons who are allotted a PAN as on July 1, 2017 and eligible for Aadhaar, would need to provide the Aadhaar number to the prescribed authority in prescribed form and manner.
Recently, the CBDT has introduced intimation procedure through SMS, in-person visit to designated PAN service centres and online facility on the portals of PAN service provider. This is in addition to the facility available on the income-tax portal for linking of PAN with Aadhaar.
Initially there was news that if you fail to link Aadhaar card with PAN, the PAN number will be invalid. But now CB DT has issued clarification that PAN will not be invalid till next announcement.
There are various options through which Aadhaar can be link to PAN:
1- Link Aadhaar and PAN via Income Tax website
https://incometaxindiaefiling.gov.in/e-Filing/Services/LinkAadhaarHome.html
If date of Birth & gender is matched but name is not fully matched, then OTP will be sent to Aadhaar mobile number .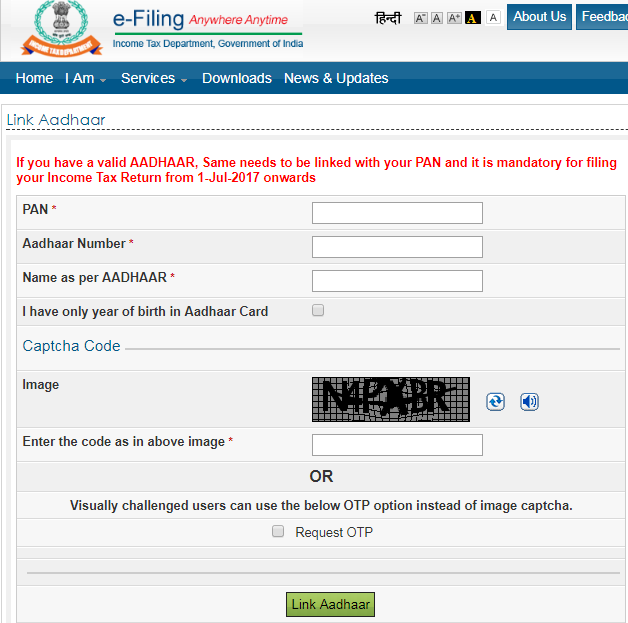 2 – You can also link the Aadhaar & PAN after login into the Income Tax website

3.  SMS – Link Aadhaar & PAN with SMS
Now you can link your Aadhaar and PAN through SMS also. The Income Tax Department has urged taxpayers to link their Aadhaar with their PAN, using an SMS-based facility.It can be done by sending an SMS to either 567678 or 56161.
Send SMS to 567678 or 56161 from your registered mobile number in following format:
UIDPAN<SPACE><12 digit Aadhaar><Space><10 digit PAN>
Example: UIDPAN 123456789123 AKPLM2124M