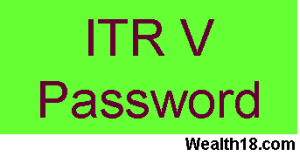 If you are filing online Income Tax retuns & not using Digital Signature, you need to take print of ITR V (Acknowledgement), sign it & send it by post to IT Processing Centre.
Once you submit your return, ITR V is emailed to your on your registered email. 
Else, you can downoad the ITR V or ITR Form via Income Tax efiling website. After Login , Go to My Acount –> My returns / Form –> Cick on Acknowledgement Number
However, ITR V pdf file is passwod protected.
To open the PDF, please enter your PAN in lower case and date of birth in DDMMYYYY format without any space between the PAN and date fields.
For example, if your PAN is ABCDE1234A and date of birth / incorporation is November 17, 1985 then the password will be abcde1234a17111985 .
You need to send ITR V to "Income Tax Department – CPC, Post Bag No – 1, Electronic City Post Office, Bengaluru – 560100,  Karnataka",  by ORDINARY POST OR SPEED POST ONLY, within 120 days from date of submitting IT returns.