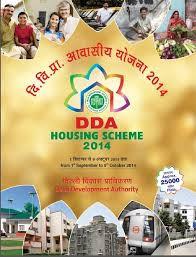 UPDATE 25/11/2014  DDA Housing Scheme 2014 draw results are announced. Please see the link below to check if you have been allotted a flat

https://dda.org.in/ddanew/Hosing_Scheme2014.aspx
UPDATE 5/11/2014 –   DDA Housing Scheme 2014 Draw Results :  DDA also now postponed the draw date to November 10. Once the forms are uploaded ont he website, the applicants will be given opportunity for 1-2 days to check the details & rectify it if needed.
Update – Last date for DDA Housing scheme is extended to Oct 15 2014.
DDA new Housing / Flat Scheme 2014 is biggest ever housing scheme by DDA with over 25000 flats on offer. The Delhi Development Authority's (DDA) 2014 housing scheme kicked off on Monday 01-Sep-2014. 
Here are the important things you must know about the scheme:
Who can Apply in DDA Housing Scheme 2014?
Any citizen of India who is at 18 years of age and

who personally or whose dependent family members don't own a home in Delhi
What's on offer  :  
LIG –  20,000 +  homes that will be newly constructed by the DDA will be one-bedroom apartments in north-west Delhi's Rohini and Narela neighborhoods, Mukherjee Nagar in north Delhi, and Dwarka, near the airport. These apartments will cover an area between 344 sqft to 525 sqft, and will cost around Rs 15-21 lakhs)

MIG – Around 500 homes are being offered to buyers in what DDA calls a middle-income group. These are slightly larger homes, between 818 sqft to 1367 sqft in area, and costing between INR 42 – 70 lakhs. They are available only in three areas of the capital: Mukherjee Nagar, Narela and Kalyan Vihar.

DDA is also offering to resell around 800 existing homes, a handful of which are in the south Delhi neighborhood of Kalkaji.
FREE Download – DDA Housing Scheme 2014 – Brochure & Form
Choice:  Unlike previous schemes where applicants could give a choice of flats in 5 categories/areas, the 2014 housing scheme gives only 3  such options.
Timelines for DDA Housing Scheme 2014 :  Registrations are open from 01-Sep-2014 till October 9 2014.  Last date for DDA Housing scheme is extended to Oct 15 2014.

How to Apply in DDA Housing Scheme 2014?
1)       You can buy a brochure which includes application form (for Rs 150) from Vikas Sadan (DDA office) or from selected branches of 13 empanelled banks.
2)       For the sale of brochures with registration forms and payment of the registration amount, the DDA has tied up with following 13 banks.
State Bank of India

ICICI Bank

Axis Bank

Yes Bank

HDFC Bank

Kotak Mahindra Bank

IDBI Bank
3) To apply, you will have to deposit Rs.1 lakh as registration amount which will be returned if the flat is not allotted. The registration amount for EWS flats is Rs.10,000.
4) You can also fill online form available on Bank's websites. Online payment can be made through NEFT / RTGS/ Net Banking if you are applying online.
To Apply using Banks – HDFC, Kotak, Yes bank, PNB & Central bank of India, you can use following link
You can also apply online – https://www.payumoney.com/dda/#/
HDFC Bank –   https://www.hdfcbank.com/htdocs/common/dda-housing-scheme/index.htm
Central Bank – https://www.payumoney.com/dda/#/centralbank
Kotak Bank – https://www.payumoney.com/dda/#/kotak
PNB – https://www.payumoney.com/dda/#/pnb
Yes Bank – https://www.payumoney.com/dda/#/yesbank
SBI – https://www.onlinesbi.com/prelogin/icollecthome.htm?corpID=368464
Axis bank –  https://easypay.axisbank.co.in/
ICICI Bank –  https://icici.formzero.in/
Syndicate bank –  https://www.syndicatebank.in/scripts/dda_housing_scheme.aspx
IndusInd Bank   https://payments.billdesk.com/MercOnline/DDAController?type=IDS
Corporation Bank – https://www.corpbank.com/apply-online/dda-housing-scheme-2014
Union Bank –  https://unionbank.formzero.in/
IDBI —  https://www.idbi.com/Housing-Scheme-Disclaimer.asp
Where to download forms for DDA Housing Scheme 2014 – You can download the form from DDA Website or visit designated bank branches.
FREE Download – DDA Housing Scheme 2014 – Brochure & Form
Documents required for DDA Housing Scheme 2014: At the time of filing applications, you just have to provide a copy of PAN Card & a photograph. Only one application form with Rs.1 lakh is to be submitted.
 DDA Housing Scheme 2014 Draw Results :    DDA also officially announced November 5, as the tentative date for the draw.  The draw will be held within 15 to 20 days after October 9 and possession will be given latest by March 2015.

Selling Restriction –   Though the keys to the homes are given out shortly after payment, home ownership will not be granted for five years, according to DDA. This is to prevent speculators from applying for these homes and selling them on quickly for profit, says Ms. Dhar.
Should you apply for DDA Flat in this scheme??
In 2008, 5.67 lakh people applied for DDA's 5,238 flats (over 100 applicants per flat).
Two years later, 7.5 lakh people had applied for 16,118 DDA flats.
in 2014 scheme – Nearly 20 lakh applicants are estimated to apply for this scheme.
DDA flats have been very popular because they are cheaper as compare to market rate. for e.g , a 2 bedroom, hall, kitchen (BHK) DDA flat in Dwarka is priced between Rs. 41 lakh to Rs. 70 lakh (depending on the area). The market rate for such a flat is between Rs. 70 lakh to Rs. 1.2 crore, brokers say.
But this time, you will not be able to see the flat within 5 years as ownership is transferred to you only after 5 years.
—————————-
Update  – 22-Sep-2014  – Price correction of certain flats
20 days after it launched,  the DDA has realised that the prices of some flats have been wrongly printed in the scheme brochure. In a public notice on Sunday, DDA announced that the prices of following is incorrect:
40 one-room, extendable type flats in Rohini's Sector 20 and 25 should be read as `21.40 lakh instead of `19.80 lakh, as printed in the brochure.

One three-bedroom flat in Shalimar Bagh is actually priced at `46.50 lakh instead of `37.50 lakh, it said.
In the brochure, these flats are shown at serial number 5 and 17 and have the locality code of 15 and 51, respectively. In the corrigendum, DDA has asked applicants to take these changes into consideration while applying for these flats in the housing scheme form.
"Flat prices provided in the housing scheme brochure are always indicative and tentative, which we have mentioned in the brochure. DDA has not revised prices of any flat and the corrigendum has been issued because an inadvertent error had crept in," said a DDA spokesperson. "It could be a calculation or clerical error but DDA has not recalculated prices of any flat, otherwise prices of only 41 out of 25,034 flats only would have not been revised" she said.
———————–
Check / Confirm your Application Status on DDA Website – where you have submitted at bank (online / offline)
https://dda.org.in/HousingScheme2014/DDAScheme14.aspx
In case of message "No Data found " Please contact the concerned bank  through which application has been filed online/off line.