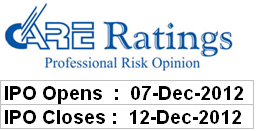 CARE Ratings IPO will open on 7-Dec-2012 & closes on 11-Dec-2012 with price band of Rs 700-750. Research Firm – KRChoksey advises to subscribe to CARE Ratings IPO.  See Full report link at end of this post.
About the Company & Business Model
Credit Analysis and Research Ltd (CARE ratings) is one of the leading credit rating agencies in India. The company was promoted by IDBI Bank, Canara Bank and State Bank of India and stands second after CRISIL in terms of rating turnover.
The company has added many income generating pool of products such as SME rating, MSE rating, Edu-grade, Equi-grade, Real Estate and market linked debenture valuation etc.
CARE has strengthened its position in IPO grading market by capturing ~ 49.4% market share.
Competitors  – CRISIL , ICRA
Future Outlook
1. Infrastructure Finance Ratings – The Planning commission has estimated Rs 40 lacs crore infrastructures spending in 12th five year plan, out of that 50% would come from private sector. This will create huge demand for debt capital to support infrastructure funding which in turn require rating services.
2. Expansion/ JV – The Company has expanded its footprint outside India in rating business, as well as in the provision of technical services to other rating agencies. CARE ratings is adopting joint venture route with local credit rating agency for entering various markets.
The higher operating margin can be attributed to CARE Ratings' smaller presence in the small and medium enterprises segment, which has lower returns. It also has a low-cost back-office in Ahmedabad, which helps it restrict its employee costs to less than one-quarter of its sales, compared with nearly one-half for the other two raters. The main reason of its margins are higher is that it gets most of its revenue from the ratings business, which is clearly a high margin business. The margins of Crisil and Icra are lower because they are diversified companies, with interests in research and consulting.
Risks
On the flip side, it means that CARE Ratings has all its eggs in one basket. For the year ended March, 86.4% of its revenue came from ratings.
In its prospectus, CARE Ratings talks about how it wants to develop its research business and expand. While it certainly has the cash to do so, such a move will likely lead to a reduction in margins. Besides, such a move will take some time to materialize.
If banks decide to rate their loans internally, which the Reserve Bank of India may allow them to do so by March 2014, it will impact CARE Ratings more than others.
Summary
Based on above comparison, CARE's IPO price is ~ 21 times FY13 earnings while other competitors are traded at 35-37 times.
CARE's valuation looks attractive and has potential to provide good returns over medium to long term as well as possible listing gains.
But there is a risk as the company has revenues concentrated in one business area (ratings) as compared to other competitors who have revenues from rating as well as research.
Research Firm  KRChoksey advises to Subscribe to CARE Ratings IPO. See Full report