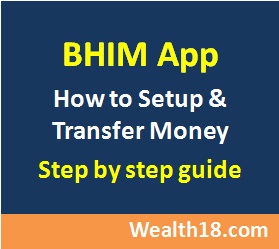 Prime Minister Narendra Modi launched BHIM app on last Friday for promoting cashless transactions.
BHIM (Bharat Interface for Money) is a mobile payment app and an aggregator for all UPI Based services offered by banks.  BHIM is a digital payments solution app based on Unified Payments Interface (UPI) from the National Payments Corporation of India (NPCI).
It is not a mobile wallet like Paytm or Mobikwik as you can send money to anyone with or without BHIM App as long as they have bank account.
It uses UPI through which all the major banks in India are now connected. The transactions are instant, although there is a limit of Rs 10,000 per transaction. Also you can't make transaction worth more than Rs 20,000 in 24 hours.
Step by Step guide to use BHIM
Install the application from Play Store by searching "BHIM". It is only available for android users currently and not on iOS.

After you install the app, it will prompt you to verify your phone number using SMS. As SMS is sent though your phone, Re 1 will be charged for this.

Click on Next and wait for verification process to complete. Use the mobile number which is registered in your bank account. 

Sometime you will get error that "Verify Mobile failed" or "Device Binding Failed", you need try again as the app is running slow and may sometime give error while registering. 

Once the number verification is done, you need to setup a 4 digit BHIM PIN.

You need to select Bank – the App will automatically pick up your bank details based on phone number . You need to select primary bank account for your transactions.

Activate UPI – If UPI is not activated, you can just put in six digits of your debit card and the expiry date. You then create a UPI pin. Once done, the app will let you perform the needed functions.
Transactions
BHIM app will let you send and receive money to other UPI and non-UPI accounts or addresses. You can also send money via entering their mobile number or VPA or IFSC and MMID code.
Send Money –  You can send money via
– entering their mobile number
–  via their VPA (Virtual payment address e.g. vivek@SBI ) if other party has UPI activated. This VPA is all that is needed to transfer funds. A maximum of Rs 10,000 can be shared per transaction, and a total of Rs 20,000 can be sent within 24 hours.
– If your friend doesn't have UPI, on top of the send money option, you will see three dots. Tap on that and the ACCOUNT+IFSC option will open up. Put in the details there, and you'll be able to transfer money.
Request money: Tap on the request button. Put in the number, let the app verify it. Once the verification is done, you can request the money.
Scan and pay:  The app generates a QR for every users, which can then be shared or printed and pasted. To make a payment to the QR code owner, just scan it and pay.
Summary – This App has very simple interface. You need an Android phone and internet connection, a working SIM (for number verification).
How BHIM App will work for shopping at at Retail shops?
Merchants need to download the Aadhaar cashless merchant app on their smartphones connected to a biometric reader, which is currently available for Rs 2,000.
The customer will then feed his or her Aadhar number into the app, select the bank through which the transaction will take place, and the biometric scan will work as a password for the transaction to be authenticated.
This app can eliminate the requirement of PoS (Point of Sale) terminals. No bank and merchant transaction fee is applicable. (Generally 1 to 3% charges are levied on the transactions by Card companies like Visa or Mastercard).
Which banks support the BHIM app?   Following are the banks that support the BHIM app as released by the government:
Allahabad Bank, Andhra Bank, Axis Bank, Bank of Baroda, Bank of India, Bank of Maharashtra, Canara Bank, Catholic Syrian Bank, Central Bank of India, DCB Bank, Dena Bank, Federal Bank, HDFC Bank, ICICI Bank, IDBI Bank, IDFC Bank, Indian Bank, Indian Overseas Bank, IndusInd Bank, Karnataka Bank, Karur Vysya Bank, Kotak Mahindra Bank, Oriental Bank of Commerce, Punjab National Bank, RBL Bank, South Indian Bank, Standard Chartered Bank, State Bank of India, Syndicate Bank, Union Bank of India, United Bank of India, Vijaya Bank.
Please share your experience with using BHIM App using the comments box below.